Top 10 Cannabis Growers in the USA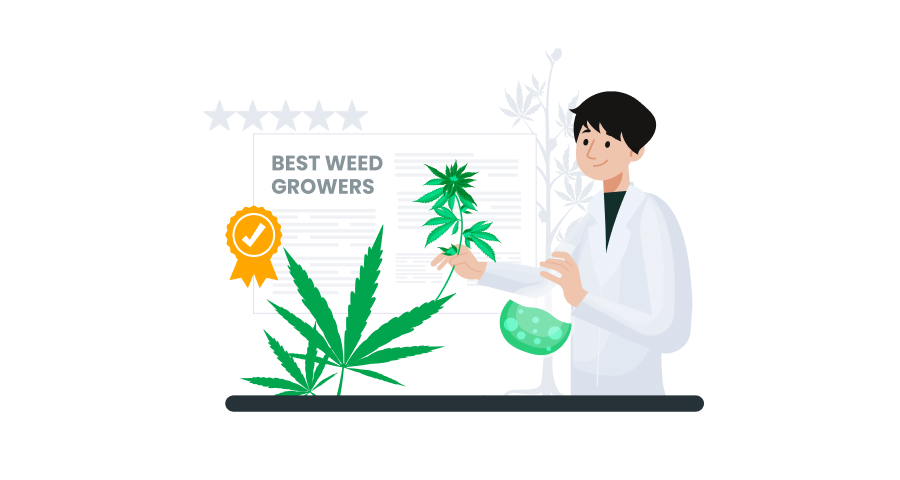 The cannabis industry in the United States has experienced a monumental shift, with the legalization of medical and recreational marijuana opening up a flourishing market for both consumers and growers. In this article, we delve into the world of cannabis cultivation, exploring the best weed growers in the USA who have made their mark on this rapidly evolving landscape.
From cutting-edge technologies to sustainable practices, these industry pioneers have redefined what it means to produce premium products, shaping the future of the American cannabis industry and captivating the attention of enthusiasts across the nation.
Let's learn more about the achievements and contributions of these biggest marijuana producers, who have propelled the USA into a new era of growing cannabis.
The Best Weed Growers in 2023
As the cannabis industry continues to gain momentum in the United States, a wave of exceptional weed growers has emerged, pushing boundaries and redefining what it means to cultivate top-notch cannabis. These visionary companies have mastered the art of producing premium-quality strains and demonstrated their commitment to innovation, sustainability, and customer satisfaction. Here is the list of top cannabis growers in the USA in 2023:
Curaleaf;
Palo Verde Center;
Mammoth Farms;
Ultra Health;
Cookies Los Angeles;
Belushi's Farm;
Copperstate Farms;
Canna Hub;
Cresco Labs;
Glass House Farms.
In an industry where factors like weather, pests, and regulatory changes can impact cultivation outcomes, insurance for cannabis growers provides a much-needed layer of security, enabling cultivators to navigate uncertainties and focus on what they do best – producing exceptional cannabis products. So, let's have a look at the top growers who managed to achieve success in the industry.
Curaleaf
Square Footage: 4,400,000
Location: Massachusetts
Revenue: $1.31 billion
Curaleaf, located in the beautiful state of Massachusetts, stands as a shining example of excellence in cannabis cultivation among cannabis brands and top weed growers in the world. With sprawling cultivation facilities that span over 2,300,000 square feet, one of the largest cannabis growers has positioned itself at the forefront of the industry. Curaleaf has garnered a stellar reputation for its unwavering commitment to producing high-quality cannabis products that meet the demands of a rapidly growing market.
One of the key factors contributing to Curaleaf's success is its investment in state-of-the-art technology. The farm, which is one of the best marijuana growers, utilizes cutting-edge equipment and advanced cultivation techniques to optimize every aspect of the growing process. From automated irrigation systems and precise climate control to advanced lighting setups, Curaleaf leaves no stone unturned when it comes to creating the ideal environment for growing cannabis and selling cannabis products.
Palo Verde Center
Square Footage: 2,400,000
Location: California
Revenue: <$5M
Nestled in the heart of California, Palo Verde Center has emerged as a standout among commercial weed growers, renowned for its unwavering commitment to excellence. This distinguished cultivation facility sets itself apart through its meticulous attention to detail in every aspect of cultivation, resulting in the steady production of exceptional cannabis products. With a reputation built on excellence, Palo Verde Center continues to push the boundaries of cannabis cultivation, leaving a lasting impression on enthusiasts and connoisseurs alike.
Palo Verde Center's unwavering dedication to quality assurance and strain development has earned them high regard within the industry. From the selection of premium genetics to the careful monitoring of environmental conditions and nutrient profiles, every step of the cultivation process is executed with precision. This commitment to detail ensures that each batch of cannabis from Palo Verde Center maintains consistent quality and delivers an experience that captivates the senses.
Mammoth Farms
Square Footage: 3,484,800
Location: Colorado
Revenue: <$5 million
Situated in the fertile landscapes of Colorado, Mammoth Farms, one of the most famous weed growers, has become a beacon of excellence in the cannabis industry, celebrated for its steadfast commitment to organic growing practices. With a firm belief in sustainability and environmentally friendly methods, Mammoth Farms stands as a testament to the harmonious relationship between cannabis cultivation and the natural world.
The farm's dedication to organic principles extends to every stage of its cultivation process, from sourcing premium organic seeds to utilizing organic nutrients and natural pest control methods. By eschewing synthetic fertilizers and harmful chemicals, Mammoth Farms ensures that their cannabis products are free from artificial additives, allowing the true essence of the plant to shine through. Mammoth Farms takes immense pride in delivering top-tier organic cannabis to the market.
Ultra Health
Square Footage: 9,213,000
Location: New Mexico
Revenue: $5 million
Spanning across multiple states such as New Mexico, Arizona, and Nevada, Ultra Health has solidified its reputation in the legal cannabis industry as one of the leading licensed marijuana growers of medical and recreational cannabis, acclaimed for its extensive range of strains and unwavering dedication to patient-centered care. With a primary focus on medical cannabis, Ultra Health has emerged as a trusted name in the industry, ensuring that patients receive the utmost attention and access to a wide variety of therapeutic options.
Understanding the diverse needs of patients, Ultra Health cultivates an extensive selection of medical marijuana strains, each carefully curated to address specific medical conditions and symptoms. Their commitment to quality and consistency is evident in their meticulous cultivation practices, stringent recreational cannabis quality control measures, and rigorous testing protocols.
Cookies Los Angeles
Square Footage: 25,000
Location: California
Revenue: $267.8 million
As one of the best cannabis growers with a license, this renowned cultivator has garnered a dedicated following due to his unwavering commitment to quality and his unparalleled passion for crafting exceptional flavors. At Cookies Los Angeles, innovation thrives as they continuously push the boundaries of cannabis genetics, creating novel and captivating strains that captivate the senses and deliver unique experiences.
With a meticulous focus on selecting and refining their genetics, Cookies Los Angeles consistently produces medical cannabis products that stand out from the crowd. From the moment the flower is cultivated to the final stages of processing and packaging, every aspect of their production process is infused with a deep commitment to excellence. The result is a lineup of strains that not only offer potent and enjoyable effects but also boast a remarkable range of enticing aromas and flavors.
Belushi's Farm
Square Footage: 20,000
Location: Oregon
Revenue: <$5M
Belushi's Farm, one of the most famous cannabis growers and the brainchild of the legendary actor's brother, Jim Belushi, epitomizes the perfect fusion of expertise and unwavering passion in the realm of medical marijuana cultivation. Situated in Oregon, this farm has become a hub for exceptional cannabis production, boasting a diverse and awe-inspiring collection of strains that pay homage to the art and culture of marijuana.
Belushi's Farm is devoted to excellence with a steadfast commitment, founded on a deep love for the plant. Their team of experienced cultivators meticulously tends to each plant, ensuring optimal growth, potency, and flavor profiles. Belushi's Farm not only cultivates cannabis but also cultivates a deep appreciation for the intricate artistry and heritage behind this remarkable plant.
Copperstate Farms
Square Footage: 1,700,000
Location: Arizona
Revenue: $90 million
Copperstate Farms' unwavering dedication to sustainable practices is evident in every aspect of their operations, from energy-efficient cultivation facilities to water conservation methods. By integrating advanced technologies and innovative cultivation methods, they have been able to optimize growth conditions and meticulously control every element that contributes to the plant's development.
This rigorous approach ensures the consistent production of high-quality cannabis that meets the stringent standards set by both regulators and enthusiasts. This licensed marijuana grower emphasizes quality control, which is reflected in their rigorous testing procedures, which guarantee the purity and potency of their products.
Canna Hub
Square Footage: 1,200,000
Location: California
Revenue: $5.4 million
Canna Hub has emerged as a prominent force in the cannabis industry, establishing itself as a leading cultivation powerhouse nationwide. With a focus on cutting-edge technology and extensive expertise, they provide a comprehensive range of innovative solutions and unwavering support to cannabis growers. Aspiring cultivators have found Canna Hub to be an invaluable resource, relying on their state-of-the-art tools and knowledge to optimize their cultivation processes and maximize their yields.
Cresco Labs
Square Footage: 560,139
Location: Illinois
Revenue: $860.9 million
As a top cannabis grower in the cannabis world, Cresco Labs has solidified its position as a leading force with operations in Illinois. By leveraging advanced technologies and industry-leading practices, they consistently deliver high-quality products that cater to the diverse needs and preferences of consumers.
Their multi-state presence allows them to tap into different markets, adapting their offerings to meet local regulations and consumer demands. With a strong focus on innovation and a dedication to cultivating exceptional cannabis, Cresco Labs continues to thrive as a trusted and influential name in the ever-expanding cannabis industry.
Glass House Farms
Square Footage: 500,000
Location: California
Revenue: $10.8M
Glass House Farms, a top weed grower, is a renowned and pioneering cannabis cultivation company that has carved a prominent place in the industry with its commitment to quality, sustainability, and innovation. Situated in the heart of California's Santa Barbara County, Glass House Farms has set the bar for cannabis production high with its state-of-the-art greenhouse facilities that combine cutting-edge technology with eco-friendly practices on many village farms.
The company's relentless dedication to producing premium, pesticide-free cannabis has earned it a reputation for consistently delivering top-tier products to its customers. From meticulously selected genetics to expert cultivation techniques, Glass House Farms continues to push boundaries, shaping the future of the cannabis industry while upholding the values of transparency, integrity, and environmental stewardship.
Biggest Weed Growers By State
From the lush landscapes of California to the expansive fields of Oregon, a multitude of weed growers have emerged as titans within their respective states, shaping the industry and supplying consumers with top-notch cannabis products. Let's have a look at the largest cannabis growers by state:
| | |
| --- | --- |
| State | Largest companies |
| Alaska | BAM Alaska, Alaska Cannabis Company |
| Arizona | Copperstate Farms, Grow Sciences |
| California | Mammoth Distribution, Glass House Farms, SHO Companies |
| Colorado | Native Roots |
| District of Columbia | unknown |
| Illinois | Cresco Labs, PharmaCann, Green Thumb Industries, and Verano |
| Massachusetts | Curaleaf, Beam Organics |
| Nevada | Flower One |
| Oregon | Nectar Markets LLC |
| Washington | Northwest Cannabis Solutions Satsop, and Harmony Farms |
Bottom Line
The cannabis industry in the United States is experiencing a period of remarkable growth and potential, as showcased by the best weed growers featured in this article. As we witness these marijuana growers thrive and flourish, it becomes evident that the cannabis industry offers tremendous prospects for both consumers and cultivators alike.
With ongoing advancements in cultivation techniques, expanding popularization efforts, and increasing recognition of cannabis's therapeutic benefits, the future of the American legal cannabis industry holds immense promise. This dynamic landscape promises to continue shaping the lives of countless individuals while propelling the industry towards new frontiers of innovation, health, and wellbeing with the help of the top cannabis growers.
Ready to Get More Traffic?
We've helped dozens of clients achieve remarkable results by increasing organic traffic and revenue for their online businesses. Let us put our expertise to work for you and help you reach new heights of success.
Get Started