How and why to get an SSL Certificate for your dispensary website?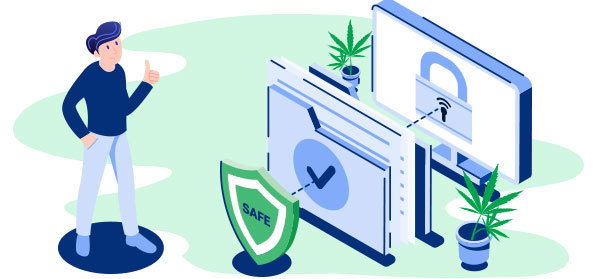 Without an SSL certificate, your cannabis dispensary will never earn the trust of internet users. This digital key communicates authenticity and credibility. In 2021, it is indispensable for all websites that accept payments and ask for personal details.
Definition and Purpose of an SSL Certificate
Cybersecurity and trustworthiness are paramount. Implementation of SSL is a simple but effective way to tell your visitors that the CBD site can be trusted. The abbreviation stands for "Secure Sockets Layer". Every user has seen this icon — a small green padlock in the address bar of the browser.
The sign confirms that the platform is hosted on HTTPS. This is a protected version of HTTP — HyperText Transfer Protocol Secure. To obtain it, the website owner must prove ownership of the property to the hosting provider. As a result, consumers are better protected from common cyber threats. This includes data breaches, phishing scams, and other dangers. Security-conscious users know they should not share any information unless the site has HTTPS.
At the same time, SSL certification is crucial for your SEO. The Chrome browser labels websites without it as "not secure". Obviously, no cannabis dispensary business would like to project such an image. Your ranking in the search results would be poor, too. All of these factors make integration indispensable. So, how to go about it?
Getting the Certificate Step by Step
The procedure will largely depend on your hosting provider. Some companies include SSL in their all-around service bundle, so you receive it from the get-go as part of your subscription plan. If this is not the case, follow our guide to implement SSL for your marijuana business. Fortunately, applying for it manually is quite straightforward.
Step 1. Sending a Request
First, you need to initiate a CSR, which stands for certificate signing request. This procedure involves sending an encoded text block to a certificate authority. This must be a trusted organization whose purpose is to validate the identities of sites, email addresses, and other components. Normally, the block will be created on your server. It will contain details like:
Name of organization
The domain name (aka common name)
Locality
Country
Stage 2. Getting the Key
During the process, two keys are generated — one private and one public. The former belongs to you, and the other one is held by the certifying entity. This allows website owners to verify their identities later on.
Keep your key in a safe place. Note that it will only be applicable to the CSR that generated it. When the key is lost, the certificate stops working.
After the entity receives your request, it will check your organization and domain to approve. That's all! Once you get your private key, the process is complete, and the visitors can now see the green padlock next to the URL of your cannabis dispensary.
Are You Ready for SSL Certification?
Before applying for a certificate, make sure you are familiar with some technical terms. Any owner of a marijuana website must understand what unique IP addresses, WHOIS Records, and business validation mean. Check your knowledge below:
A unique IP address
Every SSL certificate requires a separate IP address. If you use an old one, some browsers and devices will be unable to navigate your cannabis store.
An Up-to-date WHOIS Record
For certification to succeed, the authority must confirm that the domain name belongs to you. To do this, it will look at WHOIS, which contains contact and ownership information for every domain. A match with your company name and address is required. You can check this beforehand via the domain registrar.
Business Validation (aka Organization Validation)
To establish ownership, the certificate issuer connects to state databases to see if your company is registered. After the order is placed, the entity will tell you about the requirements. Every organization has its own rules.
The Bottom Line
Like any online business, a CBD site needs an SSL certificate to be trusted. Aside from making customers feel safe, it will also improve your position in the Google ranking. Obtaining the certificate is quite simple, and the benefits are undeniable.
Ready to Get More Traffic?
We've helped dozens of clients achieve remarkable results by increasing organic traffic and revenue for their online businesses. Let us put our expertise to work for you and help you reach new heights of success.
Get Started