Do You Need a License to Sell CBD?
CBD products are generally used as a therapy for different ailments instead of generic synthetic medications. There is a huge opportunity to capitalize on this incredible product but, since it's still young in the market, a lot of questions have popped up focusing on how to start a CBD business. How do you start selling it? Do you need a license to sell CBD?
No, you don't need a specific license to sell CBD. According to U.S. Federal law, you can legally sell CBD if the oil comes from industrial hemp where the THC level is below the 0.3% threshold set out by the government.
If you get your CBD from a wholesaler, then you'll need a resale license as well as registering your business license. The requirements may be different depending on the US state where you'll be selling it. To help you out, we're going to look at the requirements from the top five states, as well as their respective laws.
Is It Legal to Sell CBD?
While federal regulations say that you can sell CBD as long as it meets the percentage threshold for THC set out in the legalization, individual U.S. states have a Controlled Substance act (CSA) that can prohibit you from starting up your own CBD business. Luckily, the majority of US states allow you to sell, buy, possess, and use hemp-based products without any kind of restriction.
The US states where you are prohibited from selling CBD products include:
North Carolina
South Carolina
Texas
Indiana
Kansas
Mississippi
Kentucky
Tennessee
You are only allowed to use CBD products in these states if you are using them for medical purposes. This means you need a doctor to approve the use of these substances with a licensed medical card, however, you still cannot sell them.
If you are selling CBD oil that is derived from cannabis and contains more than 0.3% THC, then you'll need a license as long as it's legal in that state. If you are selling CBD oil from hemp, then the THC levels need to be below 0.3%, and you'll have to confirm with your local state laws if you can sell it.
If the state laws have legalized cannabis medically and recreationally, you should have no problem setting up your CBD business for online or retail sales. It is important to keep up to date on individual state legislation as the landscape of these laws tends to change often.
Do You Need a License to Sell CBD-Infused Products Online?
You can sell CBD on the internet without a license in the United States. However, there are a growing number of them that require a license to sell CBD-infused products online, even if you are only selling to people located in a specific area. It is highly recommended that you research the state you're in to ensure you are not doing anything illegal.
For a business to sell CBD online successfully, you'll need to have the systems in place to make sure that you are compliant with the legislation in force in each state in which you are selling CBD. For example, selling CBD online to customers in a state that prohibits it can cause legal issues for your business.
Where Can You Sell CBD Products in the USA?
Each state has its regulations and legislature that can permit you to sell CBD. Here are some of the most popular states that need different licensing for you to open a CBD business.
What Licenses Do You Need to Sell CBD?
If you reside in a US state that requires licensing for you to begin selling CBD-based products, here is a list of licenses you'll need before you open your business.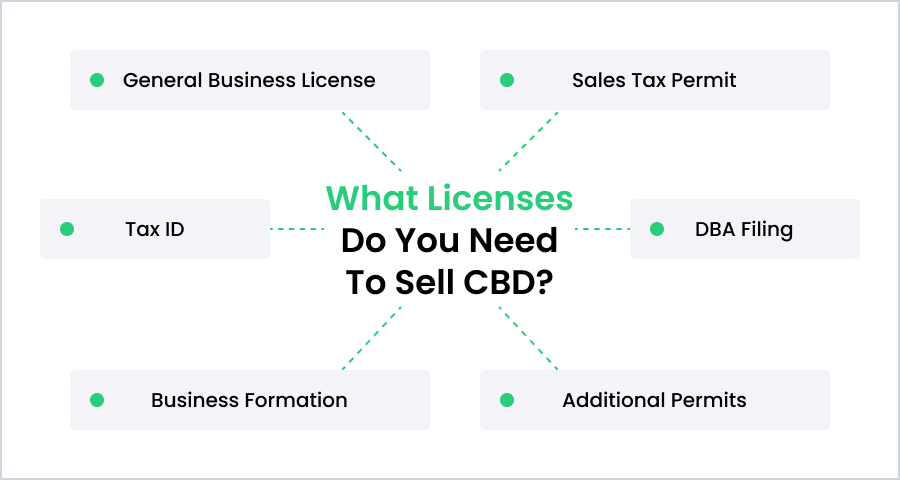 General Business License
This license is required to open a business in whatever city or county it'll reside in. It needs to be renewed every year and is the first step to selling CBD in your state. This particular license is not the same as one that you need to operate a cannabis-based business such as a dispensary or growing operation.
Tax ID
The IRS uses this ID number to identify your business for tax purposes. The federal tax identification number can also be referred to as the employer identification number and is required to run a business in the United States.
Business Formation
Unless you incorporate your business with the state that it's in, you will not be protected against debts and other liabilities that are a result of your business. You can also form a Limited Liability Company (LLC), which is a hybrid between a corporation and a partnership.
Sales Tax Permit
You'll need a sales tax permit if you are selling physical or digital products online or in a brick-and-mortar location. You need this permit regardless of the business you're opening so that the government can collect state and local taxes.
DBA Filing
If you decide to operate your business under a different name than what is on the incorporation documents, then you will need a Doing Business As (DBA) filing so that you can do so.
Additional Permits
Other permits include signage, zoning permits, and land-use permits. A lot of these apply to you if you operate a physical location. Alternatively, if you are doing any form of food preparation, you're going to need licensing from the health department.
How to Get a License to Sell CBD
As the market for CBD expands, the requirements to sell CBD products will differ between states. Five states are leading the way when it comes to opening a CBD business, and all of them have particular requirements.
Here is how you can get your license to sell CBD in these areas.
California
You'll have to apply for a state license to run a business to sell CBD in California. You'll also need to check with the jurisdiction your business resides in for approval to get a conditional use permit.
If the jurisdiction doesn't approve of the trading of cannabis or CBD products, then you won't get the proper licenses needed. Since these regulations change frequently, you'll need to make sure you're getting the right permits to legally sell CBD.
Texas
Texas requires a license to sell CBD products meaning that anyone who wants to start a business selling these items will have to register with the Department of State Health Services. This is to ensure that any consumable products derived from hemp are safe to consume and do not exceed 0.3% THC content.
To get a license to sell CBD, you'll have to go online and apply. The application requires fingerprints and an FBI authorization form to be submitted for licensing. In Texas, you can manufacture and sell hemp-derived CBD products, including those intended for human consumption.
Florida
If your business grows and sells CBD hemp products, then you'll be required to get a hemp license from the state to do so. If you are planning to sell CBD products meant for consumption, you'll be required to get a food establishment permit as well.
CBD hemp cultivation requires you to submit your fingerprints, containment plans for the plants, and transportation logistics to the state. You may even be required to submit the CBD products to a third-party licensed lab to certify that it contains no more than 0.3% THC.
New York
Do you need a license to sell CBD in New York? Any hemp CBD products need to first be approved by the state through their Cannabidiol Hemp Retail License. This will allow you to get the products onto your shelves for consumers to purchase.
Distributors that sell CBD products outside of New York need a Cannabinoid Hemp Distributor permit which guarantees that all of the products meet the stiff requirements set out in the Cannabinoid Hemp Program.
Washington
Washington requires that you obtain a state hemp license and a local business license to sell CBD products. On top of that, you will need an Employer Identification Number (EIN) to prove that the business exists. Luckily, applying for a state hemp license is easy to do through an accessible web portal.
The law applies to flowers, pre-rolls, and oils for sale, however, adding CBD to food is prohibited and can land you hefty fines. This type of approach is common in a lot of states where there is a grey area for selling CBD.
Oregon
Oregon is one of the largest cannabis producers in the country and was among the first states to be able to apply for licensing to sell CBD. You'll need to apply for a license to operate in Oregon, verifying that the product comes from a legal source, such as industrial hemp. This means you'll need to submit it for testing in an Oregon-approved lab to ensure that it is below 0.3% THC.
If you are using industrial hemp from another source, then you need to make sure that the cultivator has a license from the state that they operate in to ensure they are compliant with good manufacturing processes.
The Challenges of Selling CBD
Aside from licensing, to be able to sell CBD products, businesses have some other hurdles to get past to be successful. These challenges are unique since CBD, and cannabis in particular, is still illegal in some states, as well as at the federal level.
You'll want to keep these obstacles in mind if you are looking to start up your own business in the CBD industry.
Funding – Banks still believe that the CBD industry is too unstable and won't provide funding for many businesses. You'll have to look to outside investors that are willing to give you the capital to get your business started.
Insurance – Insurance for your CBD business is expensive since the industry is still relatively young. Even though it is legal to sell hemp-derived products, a lot of insurance providers will sell their products at higher rates.
Payments – Some credit companies won't provide solutions to CBD sellers. Visa is one example of a company that won't work with cannabis or hemp businesses. Those who work with companies in the cannabis industry impose large fees for the users of their service.
One of the biggest obstacles is going to be the bank you choose to work with. Banks are increasingly hesitant to provide your CBD business with services and loans based on the risk factors associated with selling CBD products.
Be prepared to have a couple of bank options for you to choose from as one may have vastly different policies than another regarding selling CBD products.
How to Sell CBD Products Successfully
Once you've gotten past all of the logistical and backend hurdles of owning a CBD business, you will finally be able to sell your amazing products. There are several ways to help build your brand and get it into the spotlight. This list is not exhaustive and you can still learn a lot of information through online forums and even hemp or CBD podcasts.
Grow your traffic with MjSeo!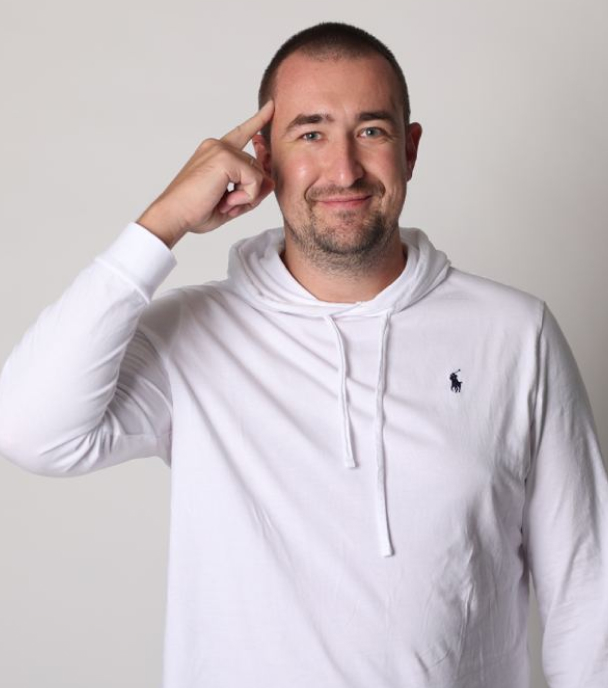 Book a free consultation with one of our experts and learn how we can help you increase and scale your online presence.
Get a clear understanding of the opportunities available to your business with our tailored analysis and actionable recommendations.
Book a Call
Find a High-Quality Company to Partner With
Partnering with a local company that complements your business is a great way to get exposure for both businesses. Not only will you share audiences, but your reach will grow as more people are interested in what you have to offer.
You'll want to approach the company with a solid plan of what's expected from each business as well as the potential gains that can come from a partnership. CBD can be substituted into food products making local wineries and breweries great targets for a potential partnership.
After launching the partnership, you should have regular meetings to identify key metrics for improvement and celebrate what is successful from the campaign.
CBD Certification
Having a CBD certification provides your customers with the assurance that your CBD products are of the highest quality. Obtaining a CBD certification entails that your products have been tested in a third-party lab that has determined your products are safe for human consumption.
Additionally, it shows that you comply with FDA regulations and that your products are of the level of THC that is considered legal. Once your business has the certification, your products will feature the approval on your physical products and your website. There are a lot of organizations, such as the US Hemp Authority that can provide you with these certifications.
Regular SEO and Local SEO
Search Engine Optimization (SEO) is vital if you are selling CBD online as it is the driving force behind getting traffic to your website. This is achieved through keyword optimization and using quality content that will put you on the first page of Google.
When people are searching for CBD products online, they will turn to a search engine like Google to find out where they can buy them, both locally and over a website. Most won't scroll past the first page of results and that's why it's important to have a clean website with relevant keywords that Google will use to send customers to you.
Local SEO is great for brick-and-mortar locations as it'll display results for anyone in your area. Using a "map pack", Google will display the top three results for a certain business with a handy map for people to find. Ensuring that your Google Business Profile is up to date is a great first step.
Before you get started on your own, having a company help you with CBD SEO services can mitigate the stress that can come from trying to figure it out on your own.
Conclusion
There is a lot of money to be made with CBD products, and the hurdles you'll face are entirely dependent on the state that you're operating out of. Some states require multiple licenses to operate, while others only need a business license for you to sell CBD products without restriction.
CBD marketing is a powerful tool and using an agency like MjSEO can help make navigating this new frontier easy with professional SEO services and insight into the different rules you'll come across when advertising.
Ready to Get More Traffic?
We've helped dozens of clients achieve remarkable results by increasing organic traffic and revenue for their online businesses. Let us put our expertise to work for you and help you reach new heights of success.
Get Started