Top 15 Cannabis Brands in the USA in 2023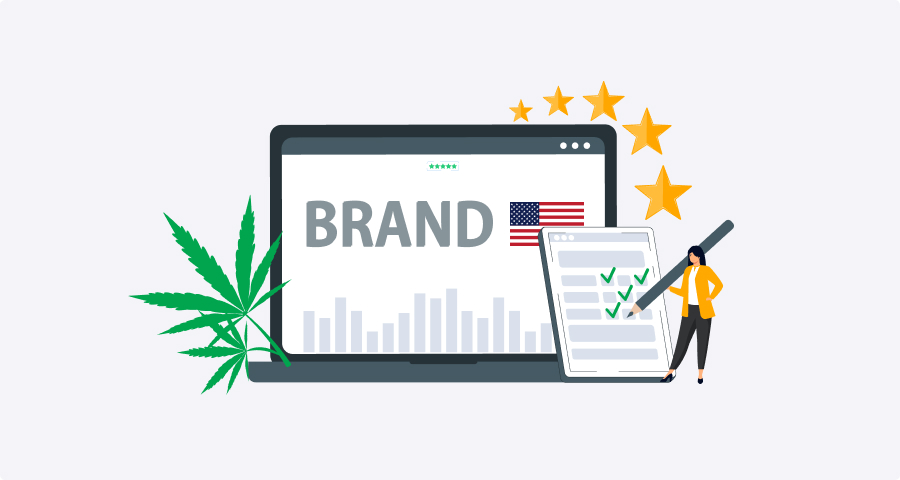 The cannabis business keeps developing fast across the world. In the USA, as of 2023, the District of Columbia and 20 other states have legalized the recreational adult use of marijuana. Furthermore, despite the drug remaining a controlled substance, attempts to legalize it at the federal level continue. And that's what considerably pushes the development of the best cannabis brands.
Now, more and more new companies are emerging in the market landscape, offering consumers completely different products and services. More so, innovations and fresh approaches to plant application have also influenced the industry's development, fostering the appearance of some outstanding cannabis brands.
So, to keep you posted about shifts happening in the canna industry, we've compiled a list of the top 15 weed brands. Whether you're a customer using the products or services or already working in the field, knowing them will always come in handy.
15 Best Cannabis Brands in 2023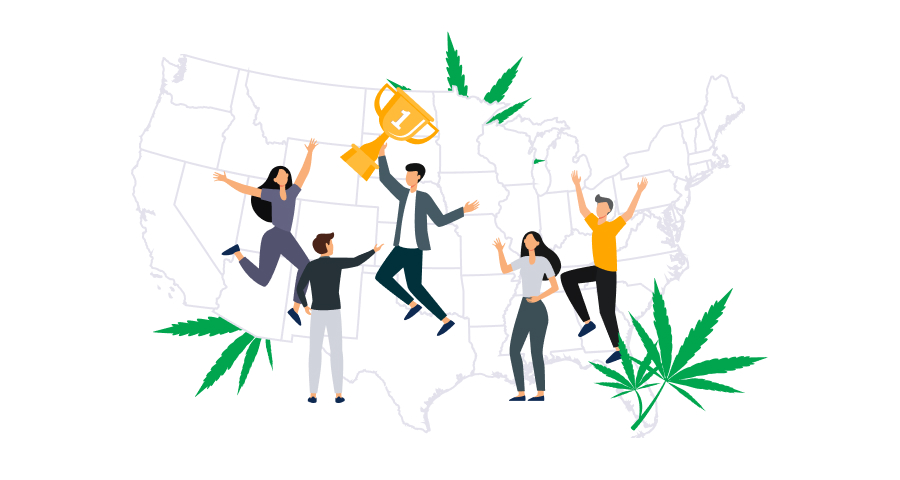 Before we get straight to exploring each company and its peculiarities, let's look through their names. Here is the list of top cannabis brands we'll discuss below:
Trulieve.
Curaleaf.
Verano.
Surterra Wellness.
Cookies.
Cresco Labs.
WYLD.
Foria.
Wana Brands.
Tyson Ranch.
Viola.
GrowHealthy.
Stiiizy.
Lowell Herb.
Rythm.
Trulieve
Founded: 1940
Location(s): Florida, Arizona, Connecticut, Georgia, Maryland, Pennsylvania, West Virginia
Brand Volume: 186K
Revenue: $1.61B
This cannabis company begins our list of the top marijuana brands in the USA for a reason. It claims to use all-natural products and counts over 180 cannabis dispensaries. Most people are reluctant to use weed products for treatment because of the feeling of euphoria they cause, but Trulieve has a solution. It offers medical and recreational cannabis and CBD goods without this undesirable effect.
You can consider using Trulieve products if you experience the following:
Obstinate and sharp muscle contractions and seizures;
Nausea, including appetite loss;
Unending pain and other symptoms related to medical issues such as cancer.
Besides acquiring this cannabis company's products, you can also contact a licensed health expert. They'll recommend the kind and form of weed products ideal for your needs.
Curaleaf
Founded: 2010
Location(s): Arizona, Connecticut, Florida, Illinois, Maine, Maryland, Massachusetts, Michigan, Nevada, New Jersey, New York, North Dakota, Ohio, Oregon, Pennsylvania, Utah, Vermont
Brand Volume: 193K
Revenue: $1.74B
The main focus of Curaleaf is finding a cannabis product that will meet the demands of every consumer. They have never viewed the plant as something universal that anyone can use, regardless of the case. Therefore, the company makes it easy for its customers to reach out to its representatives and get a consultation to choose the most suitable product for their individual needs.
Curaleaf boasts of growing and processing the best strains and using only in-house-grown plants for their goods after lab quality tests. Their offers are quite impressive and include the following:
Edibles;
Vape oils & concentrates;
Capsules & tinctures;
Mints & lozenges;
Flower, prerolls & flower pods;
Topical lotions.
Verano
Founded: 2014
Location(s): Arizona, Connecticut, Illinois, New Jersey, Florida, Massachusetts, Arkansas,  Ohio, Maryland, Pennsylvania, Michigan, West Virginia, Nevada
Brand Volume: 14K
Revenue: $1.14B
Verano continues our list of leading brands of weed, and this company is truly worth attention. By ensuring premium quality, the company proves that cannabis can be better. It aims to deliver products that will undeniably suit every comfort level and taste.
Verano's cultivation and production facilities are thoughtfully designed to grow over 160 strains and produce organic, exceptionally effective plants. That way, consumers can elevate their experience with a curated collection of cannabis goods, including:
Pre-rolls;
Vapes;
Edibles;
Oils;
Topicals;
Extracts.
Each one is made following the highest GFSI-certified quality standards. Whether you're a connoisseur or a newbie, at Verano's place, you'll develop your palate and discover your unique treat in the process.
Surterra Wellness
Founded: 2014
Location(s): Florida
Brand Volume: 67K
Revenue: $16M
This company is among the top dispensary brands that strive to increase the accessibility of weed products for medical purposes. The primary goal of this cannabis business is to let everyone feel truly well, as it believes everyone deserves this right. Hence, Surterra offers top-notch, safe goods to its customers and makes them readily available.
The components used by Surterra for its products are grown without using any artificial additives. The assortment is vibrant: from vaporizers, concentrates, and flowers to pre-rolls, edibles, oral & sublinguals, and even topicals.
Cookies
Founded: 2012
Location(s):  Florida, California, Michigan, Montana, Arkansas, Oklahoma, Colorado
Brand Volume: 14K
Revenue: $500M
This is one of the most popular weed brands in America. It was founded by cultivator and breeder Jai and the Billboard-charting rapper Berner. It's widely known not only for its collaboration with Snoop Dog but also for the authenticity of its products and advanced genetics. The range of the brand's offerings is over 2,000 items; the company is also known for the release of its unique CBD & mushroom caps.
The Cookies stands out from the others in the cannabis market because it controls the whole production process. The brand takes care of the seeding and growing of plants and continues the cycle until the final product is delivered to customers.
Cresco Labs
Founded: 2013
Location(s): Arizona, Florida, Illinois, Massachusetts, New York, Ohio
Brand Volume: 5.4K
Revenue: $1.1B
Revolutionizing the canna space, Cresco Labs has learned how to align its goods with distinct audiences, states, and occasions. It can deliver every buyer a differentiated product that is personally suitable for their current needs while also meeting their future needs.
There are numerous Cresco dispensaries operating under the Sunnyside name and offering an array of products. Whether you're a newcomer to the cannabis world or already familiar with it a bit, the company's specialists will be glad to help you make the right choice.
Moreover, consumers can expect expert guidance from the professional Cresco Labs team. All the staff are knowledgeable of the products and the peculiarities of their application. They focus on educating customers, building trust, and creating a comfortable atmosphere.
WYLD
Founded: 2016
Location(s): Arizona, California, Colorado, Illinois, Michigan, Nevada, New Mexico, Oklahoma, Oregon, Washington
Brand Volume: 8.3K
Revenue: $189M
The Wyld company aims to produce the best-tasting cannabis edibles in the world. What began as a small production in a tiny farm building in Oregon has now grown into an international leader in the industry due to its operational excellence, commitment to quality, and close partnership with its community of budtenders and retailers.
The Wyld's assortment offers innovative solutions for outdoor-minded consumers. You can taste various products, including real fruit-infused gummies and sparkling waters. You'll receive the best in every package by selecting the delicious edibles and drinks they offer.
Foria
Founded: 2014
Location(s): n/a
Brand Volume: 9.6K
Revenue: 4.2M
Foria has mastered the art of marijuana branding, and that's why it has managed to enter our list. This cannabis brand is focused on sexual health, using only all-natural components in its products.
The company is the first to develop a product portfolio for intimacy, relief, and optimum well-being available in varying formats. Foria is fully passionate about what they do. Its customers can choose from the following selections:
Suppositories for local applications;
Topical oils;
Balms and bath salts;
Daily tonics.
Their products are classified into collection & benefit categories for easy access. The brand also presents varying bundle deals and gift cards.
Wana Brands
Founded: 2010
Location(s): Colorado, Massachusetts, Michigan, Missouri, Arkansas, Oklahoma, Ohio, New Mexico, Arizona, Maryland, Illinois, Montana, Nevada, Florida
Brand Volume: 2.8K
Revenue: $115M
The three core principles that Wanna follows are excellence, innovation, and impact. This company brings a premium consumption experience through its thoroughly tested, vegan, terpene-infused products.
With continuous research and development, the brand's catalog is flourishing with new product forms, doses, and effects. Its mission is to uncover the potential cannabis has to enhance people's lives. Physical, emotional, and creative improvement awaits everyone with the Wana.
Curio Wellness
Founded: 2014
Location(s): Maryland, Missouri
Brand Volume: 2.8K
Revenue: $20.7M
This Maryland-based company has been providing Marylanders with premium cannabis goods for the last nine years. Its medically-approved weed brands are touted as some of the safest, most effective, and most reliable.
Consumers can elevate their consumption journey with Curio, Dixie, Fuzed, Smokiez, and other representatives from the vast Curio Wellness collection. Product offerings range from flowers, pre-rolls, and vapes to topicals, elixirs, tables, and medicated chews.
Besides, the company also has experienced professionals at their coolest dispensaries ready to educate you on the best weed brands and their product usage.
Viola
Founded: 2011
Location(s): Oregon, California, Nevada, Arizona, Colorado, Michigan, Pennsylvania, New Jersey
Brand Volume: 56K
Revenue: $15.3M
Founded a decade ago by the former NBA superstar AI Harrington, Viola produces high-grade cannabis products rooted in purpose. The company's launch was inspired by the beneficial effect the plant has delivered to Harrington's grandmother, who suffered from glaucoma.
As a leading Black-owned brand, Viola incorporates state-of-the-art technologies and proprietary processes for plant growth, extraction, and manufacturing goods. Its catalog is full of diverse flowers, pre-rolls, and edibles to cater to every preference. On top of that, this brand follows the goal of promoting equity by encouraging minority groups in society to participate in the cannabis branding industry. It's always open to partnerships that align with its mission.
Stiiizy
Founded: 2017
Location(s): California, Michigan
Brand Volume: 107K
Revenue: $756M
Seeking a brand dedicated to offering a premium line of weed products? Then Stiiizy should be your last stop. Ensuring excellent quality in every offer, it strives to bring a diverse, vibrant cannabis culture to the world.
Stiiizy's pod system has attracted a significant following from users since its debut as a leading lifestyle brand in cannabis. The company offers a myriad of ways to use varying kinds of concentrates. There's a catch since their pods can only be matched with their devices. But no worries, potheads! When utilized with their system, an unbelievably smooth pull is guaranteed.
Apart from pods, the brand presents other products, such as edibles, extracts, and flowers. You can also get accessories and apparel in their shops.
GrowHealthy
Founded: 2014
Location(s): Florida
Brand Volume: 33K
Revenue: $11.8M
This company is on a mission to deliver unparalleled canna products that help people live healthy and happy lives. Committed to its cause, it stands for the overall wellness and therapeutic potential of alternative medical treatment.
GrowHealthy prioritizes purity and safety above potency, sales, or trending. Every product produced by it adheres to strict industry standards, and cannabis is grown in a controlled environment of advanced nurseries for clean plants all year-round. As a result, consumers get the purest and safest goods at a fair cost.
The company's dispensaries stock a wide range of products, from flowers, pre-rolls, and extracts to distillate syringes, cartridges, and pre-ground flowers. Coming to this place, you'll always be guided and assisted in the selection process by experts to get the best solution to your case.
Lowell Herb
Founded: 2017
Location(s): California
Brand Volume: 2.0K
Revenue: $7.5M
Lowell Herb is a California-based weed company. Its thorough, respectful approach to plant cultivation and goods production says a lot about the quality of its offerings. Currently, the company makes the bestselling pre-roll in the state, giving it completely unique, lavish packaging. You can choose from the classic, individual, or infused options.
Nevertheless, it doesn't mean pre-roll is the only item Lowell Herb has. Scrolling through the catalog, you'll find flowers, bubble or full-melt hashish, full-spectrum concentrate cartridges or vapes, and different types of rosin.
Rythm
Founded: 2014
Location(s): Connecticut, Florida, Illinois, Maryland, Massachusetts, Nevada, New Jersey, NY, Ohio, Pennsylvania
Brand Volume: 600
Revenue: $445M
Finishing our list of the finest brands of weed, we'd like to mention Rythm. It's a leading brand of Green Thumb Industries. Its product portfolio includes flowers, vapes, and dab concentrates. All of them are created from an expertly raised flower that has preserved the entire array of cannabinoids, flavonoids, and terpenes. That's how the company ensures every product gives its consumers a full-spectrum, unforgettable experience.
Best-Selling Cannabis Brands By State
Looking at these flourishing brands, you have a clear picture of the important figures shaping the canna space today. All of them contribute to growing plant awareness and industry development. In that section, you can view a quick rundown of the best-selling companies by state.
| | |
| --- | --- |
| Arizona | Timeless Vapes, Select |
| California | Stiiizy, Lowell Herb |
| Colorado | WYLD, Wana Brands |
| Florida | Trulieve, Curaleaf, Surterra Wellness |
| Illinois | Rythm, Cresco Labs |
| Maryland | Curio Wellness |
| Massachusetts | Rythm |
| Missouri | Illicit Gardens, Proper Cannabis |
| Nevada | Cookies |
| New Jersey | Verano |
| New York | Curaleaf |
| Oregon | WYLD, Buddies |
| Pennsylvania | Cresco Labs |
Bottom Line
These are just a few industry players. It's expected that their number will increase in the near future because more US states are realizing the potential of legal cannabis, both economically and in the health sector. With more participants joining the landscape, the demand for cannabis products will undoubtedly skyrocket.
If you've been considering diving into the cannabis industry and launching your own brand, no time to linger! Join the best weed brand bandwagon before it gets overwhelmed!
Ready to Get More Traffic?
We've helped dozens of clients achieve remarkable results by increasing organic traffic and revenue for their online businesses. Let us put our expertise to work for you and help you reach new heights of success.
Get Started