The 15 Best WordPress Themes for Cannabis Businesses
From marijuana businesses to vape shops, you'll find that almost any type of business can benefit from some custom WordPress theme design — whether it's a cannabis dispensary or a business looking for a more modern look and feel. Choosing the right marijuana WordPress themes can be confusing if you're not aware of some basics.
Whether you're looking to upgrade your website to a more modern design or you're aiming at revamping your website to rank better in search engines like Google, then you've come to the right place. In this post, we've gone through some of the most popular themes in the WordPress community and outlined the best ones for cannabis businesses in particular. You can also resort to cannabis website design services if you need to.
1. Medicue WordPress Theme
The Medicue is one of the best marijuana WordPress themes for your businesses. It is a theme with a unique and authentic look that you can use for any type of cannabis-related website. It comes with some built-in powerful features, such as a custom post type, custom background options, and an advanced shortcode system. The Medicue is an industry-focused theme, which is developed with the needs of cannabis businesses in mind. This means that you can create an incredible site that will keep your customers and clients coming back.
What's great about this WordPress theme is that it is multipurpose and can be used for websites that have a business-related focus. Besides that, the Medicue comes with 80+ custom shortcodes so that you can easily create landing pages to meet your business needs. The marijuana WordPress theme also comes with built-in SEO tools for you to produce some incredible SEO-friendly content.
Medicue costs $49. It is a premium theme, but it is worth every penny.  And if you can afford it, then this is a theme that you should definitely get! What's even better is that there are tons of free updates and support available. The solution comes with a lot of features, including a drag-and-drop content editor, SEO tools, and some cool features like an email subscription box.
2. Cannaverde WordPress Theme
The Cannaverde is a WordPress theme that offers all the features that you will need to start a cannabis business. It comes with a custom WordPress dashboard, a content builder, a drag-and-drop editor, and a lot more. One of the most important things that you should look for when choosing a cannabis business theme is that it should offer you access to all of the powerful features. Cannaverde delivers on this promise.
What's even better is that there are a lot of free updates and free support available. The updates and support are offered for free, and you are not even required to pay a single cent!
So, this is a premium WordPress theme that will really help you start a cannabis business.
3. Medibuds WordPress Theme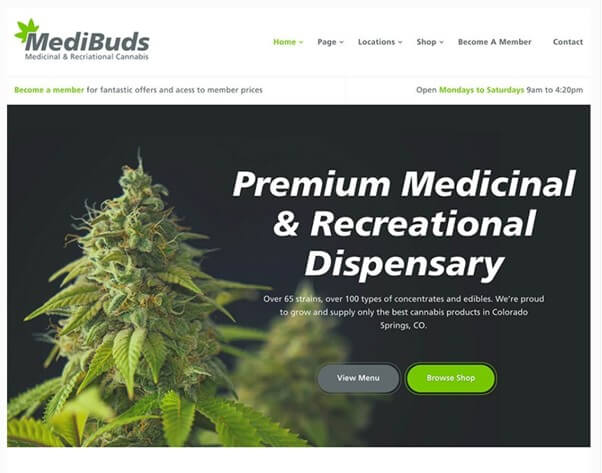 Medibuds is a premium theme that is free for a limited time. It has been designed with WordPress flexibility in mind and works with most of the features that WordPress offers. All pages and posts are neatly organized into different sections. All you have to do is drag the posts and pages around, and make it look exactly how you want. You can control every aspect of this theme, including changing the colors, fonts, and even adding different styles.
Medibuds also offers some powerful features for SEO-related needs, such as schema markup. You are free to add schema markup to every post, page, or custom post type that you create so that the theme can work with all of your content. Besides that, Medibuds also offers awesome search features and customization capability. You can even import and export themes to make the customization process easier.
4. Tijuana WordPress Theme
Tijuana is a great marijuana WordPress theme that is designed to fit the needs of cannabis-related businesses. It is one of the best well-packed marijuana WordPress themes for your website as it comes with tons of features that are unique to this industry.
One of the best things about Tijuana is that it is built using the Divi Builder WordPress plugin. This solution makes it very easy to customize your site to fit any marijuana company. Some other cool features of this theme are that it has a mobile-friendly option and a few pre-made templates so that you can get going quickly and make sure that the site is responsive on smaller screens.
5. GreenGrow WordPress Theme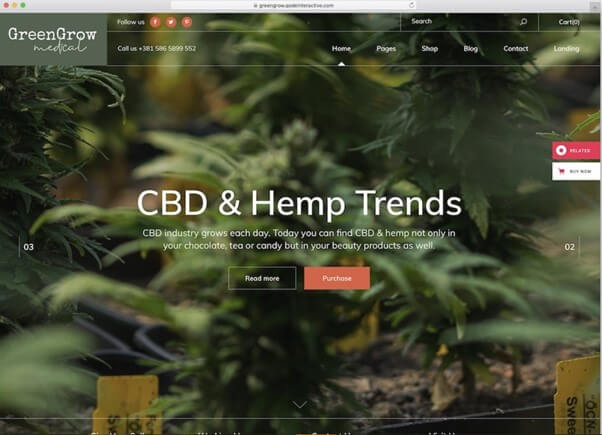 GreenGrow is a sleek and elegant medical marijuana theme that can be used for a variety of cannabis industry niches. This theme comes with three perfectly crafted homepage layouts, as well as a pack of handy features.
The GreenGrow theme can be distinguished by a subdued color palette that features prominent shades of green and orange. Aside from great visuals and animation, there are a plethora of useful elements you can implement on your pages to create an appealing and functional presentation of your site.
GreenGrow is the best cannabis WordPress theme due to the following features:
Full-screen menu accessibility;
Countdown shortcode;
SEO optimization tools;
YITH WooCommerce Wishlist plugin compatibility
6. Stockholm WordPress Theme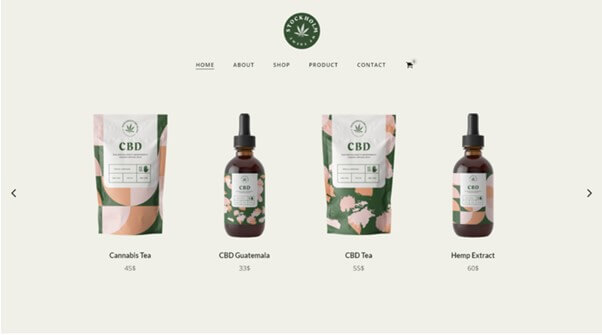 Stockholm is a multi-functional theme that can easily meet the needs of a wide range of niches, cannabis business including. With more than 125 visualization options, Stockholm has a modern, clean design. Its color palette was carefully chosen to highlight the beauty of nature and ensure a professional product display.
The Stockholm theme is WooCommerce compatible and allows for creating stunning, well-designed shop pages, so your online store will stand out from the crowd. Another cool thing that makes this theme unique is that it includes many premium plugins for free, such as Layer Slider, WPBakery, and Slider Revolution. Apart from that, you will definitely love the following features:
Scroll animations and parallax effects;
A large pack of useful shortcodes;
Support contact form 7 compatibility;
Integration of Yith Add-on.
7. JointUp WordPress Theme
JointUp is a cannabis WordPress theme for professionals. It is simple to use, attractive, and intended primarily for coffee shops and pharmacies. JointUp has a clear emphasis on eCommerce and will definitely boost your sales. You can include a table display of your most popular products on the homepage or use WooCommerce to add a slider filter. This allows you to display basic product info while also including a clear CTA in the form of a "get cannabis" button.
Overall, the approach taken by this theme to product displays and single product layouts has resulted in visually appealing page sections and internal pages. Both provide ample space for you to present your products neatly, ensuring that all the necessary information is available to all.
The following features distinguish JointUp as the best medical marijuana WordPress theme:
Compatible with MailChimp;
WP Bakery elements;
Animations for scrolling;
Effects of parallax.
8. Indicana WordPress Theme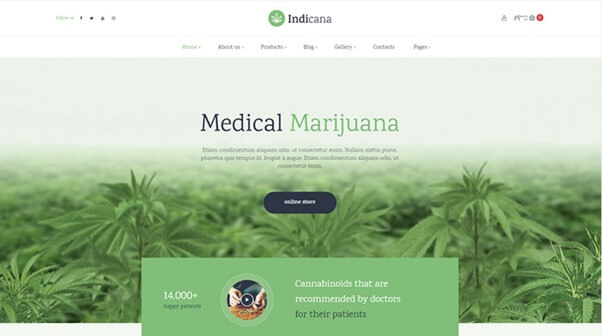 Indicana is a feature-rich and easily customizable WordPress theme that is just an excellent choice for a medicinal cannabis website. Its clean, fresh design will help you make a good impression on your visitors and grow your business. With Indicana, you have different design options to choose from. This WordPress theme includes a very user-friendly color customizer that will allow you to change the demo colors to fit your brand guidelines or preferred palette.
Apart from that, Indicana is also compatible with the WPBakery plugin, allowing you to easily edit your pages using the simple drag-and-drop tool. What is more, the below features will make your experience with Indicana even better:
Unyson framework;
Cross-browser compatibility;
Image zoom animations;
All-covering collection of unique shortcodes.
9. Sativaka WordPress Theme
Sativaka is a highly efficient and fully customizable theme that would be ideal for any medical marijuana website. It comes with three homepage demo layouts and different design options for internal pages to help you get your website up and running quickly. The Sativaka WordPress theme is sleek, with a black-and-white palette that is brightened by bright green detailing, which is just perfect for this business niche. In case it's not to your liking, Sativaka will assist you in customizing the look and feel of your pages.
Aside from its compatibility with a common drag-and-drop page builder, this theme has a whole pack of handy features. For example, you can use the lovely right-to-left slider to list the services you offer, or you maintain the header to create a split-screen display.
You also have the option of presenting customer testimonials in a variety of formats.
Good references and reviews, as with any product-based business, can help you boost your sales. So, to help your company succeed, display them in an appealing and eye-catching manner. With Sativaka, you can display testimonials in the form of simple or vertical sliders, statements, and more.
9. Medify WordPress Theme
This is yet another sleek and elegant theme for a cannabis business. It is ideal for any company that sells or offers services related to medical marijuana. At the same time, it is a good option if you offer alternative health services. This WordPress theme includes a plethora of features that can be customized to create a one-of-a-kind website.
Medify is compatible with a wide range of browsers, which is a clear advantage because it allows more potential customers to access and use your website without difficulty. It also comes with good documentation that explains how to get started with this theme.
Medify is reasonably priced, and you can test it for a month if necessary.
10. Cannamed WordPress Theme
This is another excellent theme for marijuana and cannabis businesses, especially if you are selling medical marijuana products or services. It is a high-end solution intended for big enterprises. The best thing about Cannamed is that it doesn't require any programming knowledge or technical background. Anyone can easily customize this WordPress theme to their liking.
Besides that, you can not only use the premade pages but also create your own ones using the page builder included in the package. Let's take a look at some of the most useful tools available with this theme:
Device/ browser responsiveness;
Extensive design portfolio;
Custom fonts;
Real-time customization features;
The parallax effect;
Blog designs.
11. Medactive
If you are working in the medical marijuana industry, then this theme is for you. Actually, it is quite universal for various services and can be used by a variety of businesses. The Medactive WordPress theme has a wide range of tools and features and is quite popular among webmasters of marijuana websites.
Medactive's design is trendy and chic. It has a plethora of functions and search engine optimization tools that will help you build a high-end and customer-friendly website. It is obvious that this theme will assist you in developing your business and converting your clients into returning customers. And an SEO agency for cannabis companies will work for your success.
12. Greenhash WordPress Theme
Greenhash is one of the best cannabis WordPress themes for your website. You don't have to go through the hassle of theme registration and plugin installation. It is simple to install, use, and customize. With it, you can create a cannabis store easily and start selling right away.
With Greenhash's amazing designs and features, you can sell cannabis online at a fast pace. What we really like about the solution is that this theme is optimized for the cannabis industry. Therefore, you can focus on your cannabis products and your business growth.
The following features of Greenhash deserve your special attention:
Product category and  gallery sliders;
E-commerce features;
Competitive products filter;
Product filter;
Shoppable tags, pages; and products;
Layouts for both contact and product pages;
Features for social sharing, reviews, and ratings;
Fully responsive design;
Unlimited colors, fonts, and plugins.
13. Goldie WordPress Theme
Goldie is one of the best free WordPress themes for cannabis businesses. It makes good use of the space of the screen. If you open this marijuana dispensary WordPress theme on a phone or a tablet, you will notice that the website adjusts according to the screen size. It's not perfect but is called pretty good by many users.
Aside from a responsive layout, it has excellent options for the digital content on your website. You can pick from a variety of page layouts, blog options, and add-ons that make it perfect for marijuana businesses. On top of that, Goldie also offers a variety of add-ons and customizations that make it more useful for cannabis businesses.
14. Medical Hub WordPress Theme
Medical Hub is a multi-purpose cannabis industry theme that is best suited for any cannabis business with a website solution. It is just a perfect choice for an online retailer, event listing, or a business that works on its online presence. Medical Hub features a wide range of tools, including full-width sliders, testimonials, online order forms, and live chat service functionalities.
The cannabis industry theme is built on WordPress; it offers a powerful and flexible CMS solution that is well-suited for the cannabis industry. This theme can be easily installed, customized, and used for business websites. Medical Hub has a very clean design and is optimized for mobile devices. It has a fully-featured documentation page, which is a great tool for those who don't want to mess with the code. So, you can have your website up and running within 30 minutes following their guide.
15. Herbal Lite WordPress Theme
If you are looking for a simple, bug-free website for a cannabis company, then Herbal Lite is the perfect solution. This lightweight WordPress website theme is a great choice for a small or medium-sized business that wants a simple solution to create a website. The solution comes with a fully responsive design and multi-purpose functionality that is extremely flexible and adapts well to mobile devices.
The theme is very easy to customize and is optimized for mobile viewing. It offers a clean design and a full suite of tools for managing your website. You can create a homepage, add posts and pages, create a blog, and even set up a newsletter. The solution demo is simple, and the installation is easy. The theme also has some great documentation that walks you through the installation process step-by-step.
Final Say!
Cannabis business owners are always looking for new ways to improve the look and feel of their site in order to achieve the best results and stand out from the crowd. At the end of the day, a customer's experience with your website is one of the most important factors in driving your sales.
If you are selling products online, then it shouldn't come as a surprise that the first thing customers think about is the look and feel of your website. The aesthetics are as important as functionality when it comes to cannabis businesses. After all, the website is the first thing that a prospective customer will see. And if it doesn't make them feel as comfortable as possible, they might decide to go somewhere else. Therefore, it is critically important to find a WordPress theme featuring all the necessary tools, plugins, and layouts.
If you are looking for a custom theme to make your website look unique and serve your business needs at 100%, then you can always order our development service. On our end, we will make sure that the theme that we develop for you meets your needs and expectations.
Ready to Get More Traffic?
We've helped dozens of clients achieve remarkable results by increasing organic traffic and revenue for their online businesses. Let us put our expertise to work for you and help you reach new heights of success.
Get Started