Top 18 Cannabis Business Ideas You Can Start Right Now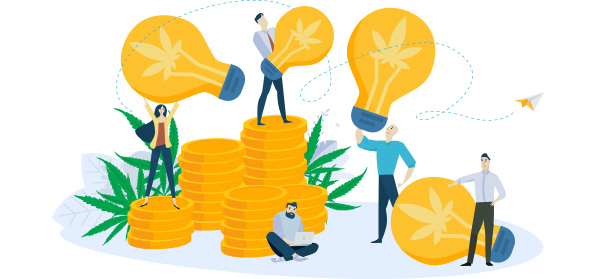 Starting a cannabis business now is a good idea because the industry is growing so quickly. The cannabis market is projected to be worth $24.5 billion by 2025, and there are many opportunities for businesses to get in on the action. It seems that you can only engage in marijuana growing and selling but in reality, there are numerous business options among which are: cannabis marketing and advertising, cannabis extraction, cannabis research and development, marijuana edibles production, cannabis consulting, ancillary services such as security, and so on.
The great thing about the cannabis industry is that it's still in its early stages, so there are plenty of opportunities for entrepreneurs who are looking to get in on the action with various cannabis business ideas. Many challenges come with starting a cannabis business, but they can be easily overcome if you'll create a strategy in advance.
One of the most important things to consider when starting a cannabis business is where you will be located. Because cannabis is still illegal at the federal level, it's crucial to choose a state that has legalized marijuana in some form. Colorado and Washington are two states that come to mind, as they were among the first to legalize recreational marijuana. However, there are numerous other options, so check them before starting a business.
Here are some legal marijuana business ideas you can use to start a successful company.
1. Production
Well, of course, production is something that large companies can do, especially when it comes to large volumes of cannabis. But nothing prevents you from creating your own farm. More so, there are even clients who will opt for products that have been grown in a more personal setting. In this way, they can be sure that cannabis has been properly taken care of.
Growing and cultivating marijuana allows beginning entrepreneurs to start at any scale they would like to try. This can be a farm or even several plants. Therefore, you will be able to understand if this activity is to your liking. But it is also necessary to take into account the following specifics:
Growing cannabis requires peculiar conditions, therefore, be ready for self-education and even spoiled harvest. Also, even more importantly, carefully study the legislation in force in your state, apply for a license, and fulfill all the requirements imposed on the cannabis production business. In this way, you will avoid any possible legal problems in the future.
2. Processing
It is the next stage in the business. If you are not ready to deal with gardening and taking care of plants, you can work with marijuana processing, which involves extracting trichomes and preparing the plant for its further consumption, for instance, you may need to roll joints or prepare marijuana for smoking.
And you will need to find producers to cooperate with. Probably, some acquaintances are interested in the business of production, while you can cover the next stage. Therefore, you can cooperate and start quite a profitable venue together. Keep in mind the legal aspects and make sure your activity complies with local laws.
Those who are interested in cannabis processing will need to find a processor. The processor will help them get the material ready for sale. They will help a seller get the extractions done and make sure the product is up to the standards. They can also help with the packaging and labeling of the product. As you can see, there are already numerous branches in a single business niche.
3. Delivery
The process of cannabis delivery has got some intricacies one should take into account. It is necessary to make sure that the quality of marijuana is not compromised. Therefore, you will have to foresee specific temperature and moisture conditions.
To work in this segment, you will need to find producers to cooperate with. In the future, you can develop your business in becoming a personal shopper as you are going to know the best producers in the area knowing the range and quality of products they offer.
When it comes to choosing a cannabis delivery service, other businesses need to make sure that the company has been in the business for a while. Nobody wants to risk their health and safety by working with an inexperienced or unprofessional outfit. In that way, it is essential to create a user-friendly website with all the necessary information and constantly work with reviews to create an impression that your company is reputable and reliable.
It's also important to consider that marijuana is not legal in all states. If you're looking to start a cannabis delivery service in a state where marijuana is not yet legalized, you'll need to be especially careful about following the law and ensuring that your business is operating within the bounds of the law. However, if you are interested in medical marijuana business ideas, in particular, this option might be one of the best for you.
4. Producing & Selling Edibles
Not every client prefers smoking. There are plenty of edible products, like bakery or tea. If you like baking or cooking, let's say, you can start your own business of producing cannabis edible goods. To get started, do thorough research to understand what local people prefer most of all. You have to focus not only on your possibilities but also on the demand among potential clients.
Among the most popular edibles are brownies, cookies, and even pizza. If you are interested in starting a marijuana edibles business, you will need to find a reliable supplier of cannabis oil. This is not as easy as it may seem, as there are many shady operators in the market. Do your research and only work with reputable companies that have a good track record. The same strategy applies to retail stores that will sell your product.
5. Producing & Selling Non-Edibles
Another possible field of cannabis application is the creation of various cosmetic and relaxation products. These can be:
soaps,
lotions,
topical creams,
massage oil, etc.
Clients need these products to cope with pain, ensure relaxation, and get relief from anxiety. This is especially good if you have produced some of these products before. Just add cannabis to the list of ingredients and expand the target clients thanks to this component.
Many cannabis companies would like to purchase non-edible cannabis products. However, you will have to compete with many large businesses that are already entrenched in the market. To make your business more competitive, consider pursuing contracts with local dispensaries and/or developing a line of products specifically for medical marijuana patients.
When it comes to actually selling cannabis products, there are a few things you'll need to do to be successful. First, you'll need a business license to find an appropriate manufacturing space. You'll also need to create an advertising campaign that will reach your target market. Finally, you'll need to establish contact with distributors who can help get your products to customers. Overall, this business idea seems to be complex but in reality, you can develop it into a large company in the future.
6. Accessories
Not every venue related to cannabis requires a license. If you are not fond of the idea of paperwork and bother with the legal aspect of the business, selling accessories is a good choice. There are so many goods you could sell (and also produce): from bongs and pipes to T-shirts with cannabis prints and fun messages, cases and storage bags, etc. The list is pretty long. If you are successful, you can extend the available range of products and reach the level of a national store.
With a low budget, you can start with an online shop that will not require paying rent. Master the basics of promotion and find suppliers of products or materials to produce your own goods. Talk to potential clients to get to know which accessories are the most demanded. Try to be unique and offer something that is not commonly found on the market.
Be sure to always comply with your country's laws and regulations related to cannabis-related goods. It is better to be safe than sorry.
7. Party Planning
With the legalization of cannabis, parties with marijuana are becoming more and more popular. As an organizer of events, you will need to take care of everything your clients need to satisfy their expectations from these venues. It is more profitable if you offer turn-key services. Hence, you will need to take care of more than just the delivery of cannabis products to a venue.
As for the possible events, do not think that you are limited to weddings, reunions, and birthday parties. Cannabis can become an indispensable entertainment part of matchmaking parties for singles, brunches, concerts, painting, yoga, other artistic or athletic endeavors. Overall, almost any event can be enhanced with cannabis products. The trick is to keep an open mind and remember that the sky is the limit when it comes to creativity.
When it comes to party planning, some key things should be taken into account. In that way, a good promotion idea would be to start a blog with tips and tricks, as well as various ideas that will help people organize a party with the help of your products.
8. Florist
You can either add marijuana to the list of plants you work with or focus on this plant. Since there are thematic parties, cannabis decorations will be also demanded. But to face the situation honestly, focusing on cannabis only as a florist will not be the most profitable business. Therefore, consider this option if you are already working as a florist or are an artistic personality with a creative approach.
9. SMM
The cannabis industry is growing rapidly, which means that more and more businesses are starting to offer their products and services to this niche. To be successful in this highly competitive market, it is important to have a well-thought-out digital marketing and promotion strategy. This includes using social media platforms such as Facebook, Instagram, Twitter, and so on.
Learn the most effective tools and promote businesses through social media. Aside from working with local companies, you can also launch your own blog that will contain useful information on the use of marijuana. When it becomes successful, you will be able to cooperate with businesses as an influencer.
Overall, promotion in social media is essential for cannabis. However, not every SMM specialist can do this considering numerous legal restrictions. The best way to ensure that you are doing things right is to consult with an experienced lawyer before starting a new business. You can also teach other specialists who want to work in the niche.
10. Consultant
If you have got knowledge of cannabis, share it and get paid for this. Aside from those who are interested in purchasing marijuana and related products, there are beginning entrepreneurs who may need to use your expertise before they understand the specifics of the niche. You can work with SEO promotion companies and SMM specialists to educate them on the specifics of the whole process, from growing cannabis to getting final products and selling them.
You need to understand that the cannabis industry is developing rapidly. The number of cannabis users is increasing every day and this tendency will continue in the future. Experts believe that the legalization of cannabis will have a positive impact on the economy. For this reason, many people are considering starting their own business in this field. Most of them will need all kinds of help from people who know how this growing industry works, what are the pitfalls, and how to avoid possible mistakes and failures.
11. Product Reviewer
Currently, a plethora of cannabis-related goods are available, and consumers are increasingly overwhelmed by options. So this business idea is about starting a company around providing reviews and other relevant information to assist customers in making informed decisions about the items they wish to buy. Because not many individuals are in this industry, you may easily be recognized for brand endorsements.
As a product reviewer, you could specialize in anything from cannabis-infused edibles to topicals to concentrates. And if you become known as an expert on a certain type of cannabis product, your opinion will carry a great deal of weight with consumers. You could even create content around specific strains of cannabis and their various effects.
In addition to becoming a well-known voice within the cannabis industry, you could also make a name for yourself as an authority on reviewing products in other industries. This could give you opportunities to appear as a guest expert on TV or radio shows, or even write columns for popular magazines and websites.
12. Weed Podcast
Podcasts are extremely popular these days, and many people are becoming financially successful through them. You may start a podcast that covers a variety of cannabis-related topics. It is simple to start a podcast, and all you need are a few pieces of equipment. This is a perfect idea for starting a cannabis business on a budget. It might be difficult to grow your audience, but it does not have to be. It takes some marketing savvy as well as patience and perseverance to boost your number of listeners.
Once you have a loyal following, you could start to sell advertising space on your podcast. And if you generate high-quality content, businesses will be eager to work with you. Plus, there is the potential to make money through sponsorship deals and even by selling your show to a larger podcast network.
13. Weed Restaurant
There are several options for using cannabis in meals and getting the most out of them. You might open a cannabis-themed restaurant if you know how to use marijuana to improve the taste of food. This is an excellent weed business idea as the popularity of the plant constantly grows. Many people believe that food with weed will make them intoxicated, but it is possible to include the taste of cannabis without causing a high. You would need to do a lot of research to make your restaurant a success, but it could be a lucrative business venture.
14. Cannabis Art
The cannabis business has helped to promote the rise of a slew of fantastic artists, who have produced everything from glassware to paintings of all kinds. You can begin making cannabis-inspired arts if you have a creative side. Cannabis has even infiltrated the high fashion and fast fashion industries. The art world is presently experiencing a significant resurgence of marijuana-inspired projects in all genres. Know where your talents lie and go from there. For example, you can make:
Cannabis-themed paintings;
Glass bongs, pipes, and other smoking accessories;
Jewelry;
Clothing.
The sky is the limit when it comes to what you can create as an artist who incorporates cannabis into your work. Just be sure that your art is tasteful and not too controversial, as marijuana is still a discussable topic.
15. 420-friendly Airbnb
While on vacation, travelers enjoy smoking marijuana, but because many hotels ban cannabis usage, visitors to legal cannabis markets may have difficulties with this. Fortunately, technology may assist you in resolving this difficulty, as an Airbnb that is 420 friendly offers a great place for cannabis tourists. You may get your own marijuana business going and meet traveling stoners, as well as make a nice profit renting out a 420 friendly Airbnb. All you need to do is make sure to get the right permits, and you will be all set.
Think about the design of such an apartment and what amenities and attractions you might want to offer. This can be a great opportunity to appeal to a niche market while also making some extra cash on the side.
16. App Development
There are numerous mobile app options in the cannabis sector. From those that can tell you where to find dispensaries to those who provide information or even social features to their customers. You may discover a market and create applications that can benefit it. If you have coding skills and some business acumen, then this may be the perfect opportunity for you.
Many people are making a killing in the cannabis industry with their innovative cannabis business ideas and business skills. Now is the time to get in on the action and see what you can come up with.
17. Packaging
There is a large market for cannabis packaging in specific. Cannabis growers and manufacturers are seeking packaging solutions that satisfy both local regulations and raise the brand. Take into account safety, design, product preservation, and costs while weighing this cannabis business idea. For this market, the packaging is highly specialized. If you have graphic design skills and want to help a cannabis company, this may be the perfect opportunity for you. Moreover, with the right contacts, you might be able to help a cannabis company get off the ground.
18. Subscription Box Service
This is an excellent business concept that might help the industry introduce new cannabis products to consumers regularly. Not only does offering these boxes benefit individual subscribers, but it may also be used to promote not just small-scale cannabis events, such as festivals, but also as a welcome gift at a 420-themed bed and breakfast.
You may offer things like cannabis-related snacks, rolling papers, pipes, 420 stickers, and periodicals, as well as marijuana. There are numerous possibilities with this cannabis business idea, and it can be tailored to fit a wide range of customers. This could be an exceptional way to get started in the cannabis industry. Think about the design and promotion of your subscription box service and get started today.
Final Words
There are many ways to enter the cannabis industry, and each has its own unique set of challenges and rewards. But no matter which avenue you decide to pursue, remember that hard work and dedication are essential for success. So get to work and see what you can come up with. The sky is the limit when it comes to your career potential.
The cannabis industry is growing rapidly, and there are many opportunities for those who want to get involved. If you have a business idea that can help this industry grow, then now is the time to act. The cannabis industry is booming, and there is no telling where it will go next. Get in on the action today and see what you can come up with. You may be surprised at what you are capable of.
Ready to Get More Traffic?
We've helped dozens of clients achieve remarkable results by increasing organic traffic and revenue for their online businesses. Let us put our expertise to work for you and help you reach new heights of success.
Get Started