Google My Business: How to Boost Local Search Rankings for Cannabis Dispensary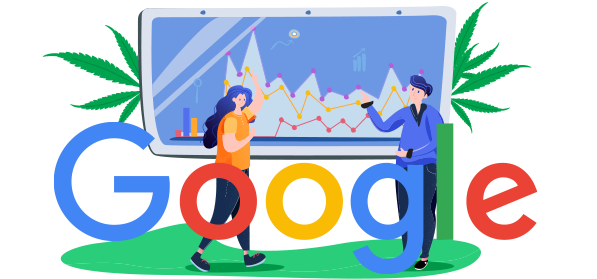 For any CBD business, being listed in local maps and directories is crucial. With an optimized Google My Business account, you will make the most of local search and expand your reach. This is a great tool for the enhancement of online presence, and it is also completely free!
GMB listing is not only the cornerstone of local exposure — it will take your marijuana business to an entirely new level. Providers featured in local search have a considerable advantage over their competition. Here is your ultimate guide to Google My Business and its use in the cannabis segment.
Why Do You Need This Service?
When consumers need a product or service, they first turn to Google search. According to the company, almost half — 46% — of all search queries have local intent. They come from people looking for local suppliers and retailers. This is also true for cannabis and CBD.
If the potential customers do not see you in their search results, they buy from a rival dispensary. A GMB account is a free way to get noticed, engage more users, and sell more products.
Getting Started
First, google the name of your cannabis dispensary —  it may already be listed. If you discover an existent listing, you need to claim it. This situation is typical for businesses that have been around for a while.
How to Claim a Listing
Google Maps offers the easiest way to do this. Open the app and enter the name of your company in the search field. Find it in the results and click on the claim button.
You will then be asked to choose a verification method. Follow the steps on the screen to achieve the goal in a few minutes. If the business is not found, you need to create a GMB profile from scratch.
Step 1. Setting Up a Profile
Google My Business is often confused with Google Business. These are two different, albeit connected, services. With a GMB account, you can open your GB  profile.
To begin, you need a Gmail address. Create it if necessary. Then, go to Google My Business and sign in with that email.
Profile Filling Tips
Be meticulous. Pay attention to every section and provide as much information as possible. This allows the engine to match you to local queries better. More customers will discover your business from the listings. All the details must be correct and up-to-date. Here are a few more tips:
Make sure the business name matches the store signage to prevent confusion.
Your address must be identical to how it looks in other sources like your website or social media profile. In the eyes of Google, inconsistencies tarnish your company's image.
Include both regular and holiday hours, as users will see them. You would not like a potential customer to arrive at your location only to discover that the doors are closed.
Do not try to change anything in the "From the Business" Description — this is an automatically generated editorial summary.
The next section — "From the Business" — is your chance to create a favorable impression on your target audience.
Optimizing GMB Description
Make this section as informative as possible, so use all 750 characters. Include crucial details in the first 250 of them. You could repurpose the text from the 'About Us' section of your site. Follow these tips:
Include the most popular keywords for the cannabis niche (the words customers often enter into Google);
Describe your competitive advantages and products/features/ services your customers love the most.
Do not insert any links or HTML.
Choosing a Category
This is another critical element. With a category, you will be more discoverable via Google search. The engine will match your type to the corresponding queries. Choose carefully to ensure a perfect match.
Accentuate features typical for the marijuana segment. Once a category is picked, Google will offer features that work for it, such as customer ratings. The more informative your listing — the more customers will want to try your goods.
At the moment, the category catalog offers over 4,000 options! Be as specific as possible. Keep searching until you find the best description for your business.
Secondary Categories
You are not limited to a single category, though. Pick one main group and add a bunch of more narrow ones — for instance, cannabis dispensary and CBD.
Select Attributes
The next step is choosing attributes from the suggestions. These are features that add specifics to your description, the things your potential customers look for, such as 'delivery'. This finalizes profile completion — now you are ready to verify it!
Step 2. Verifying Your GMB Listing
You will be surprised at how old-fashioned the method is. Google will send a postcard to your address. Within 5 business days, you should receive it. Enter the verification code from the card — and you are all set.
When your profile becomes public,  you can use all the services — reviews, analytics, and insights. Your CBD business will also start ranking in local search. Note that Google does not make profile edits visible until the company is verified.
How Does Google Determine Local Ranking?
To understand how to climb to the top, you need to know the logic of these rankings. Google rates local businesses based on three criteria: relevance, distance, and prominence. This mix guarantees the best match for searches in any area.
Suppose your company is more relevant than competitors, but further from the customer who is searching for cannabis and CBD. In this case, you will still rank higher. Here is a closer look at the components in terms of local SEO.
Relevance
A relevant profile matches the search query accurately. This means the company provides the exact product or service the user needs. The more informative your profile — the more data Google can use to detect suitable searches.
Distance
This is the physical distance between the user and your address. Google considers the location in the query or data about the user to provide the results.
Prominence
Prominent businesses are well-known. First, Google may consider offline factors. For instance, popular museums, landmarks, or retailers usually appear at the top of local search.
Secondly, the system may look at off-site sources: links, directories, and articles. The number of reviews and scores on Google also matter. Finally, general performance in the search plays a part, which makes SEO paramount. Here are a few ways to boost your promotion efforts.
How to Improve Your Google My Business SEO
There are plenty of ways to rise in the local search results. Discover the best tips below. To optimize your GMB status, you could:
Find & Fix Duplicate GMB Listings
Duplicates are a big obstacle. While they are not viewed negatively, you may be competing with yourself in the search results. The other listing may have scarce information, but Google may not be able to choose correctly.
If the duplicate is shown, it will affect your position in the search and the impression on potential customers. You need to merge the listings. The old one may include reviews you would like to keep, but you can move them across profiles. Just use the official tutorial that details every step.
Tips for Merging Two GMB Listings
First, the user should determine where their business belongs: in the storefront, service area, or practitioner category. If it is a cannabis dispensary with a brick-and-mortar store, and the flawed listing has the same physical address, check the following:
Has the other listing been verified, too? In this case, a merger is impossible. One of the listings must be unverified.
Does the other listing also belong to you? If yes, you can cancel the verification from the back-end.
Do you own only one of the two verified listings? You need to claim ownership over the other one. Google will guide you through the steps, so you can obtain control from the current owner.
Is only one of the duplicates verified? You need to contact Google. Copy the URL of each duplicate, follow the support link on your GMB dashboard and send your request using the contact form. Paste the links and ask Google to merge the listings.
Do the duplicates have different addresses? If the listing you do not need features the former address of the company, contact GMB to have it marked as moved. If this address has never been correct, suggest an edit through Google Maps. The feature you need is called "Doesn't exist here."
How to Merge Duplicate GMB Listings for a Service Area Business
Merging duplicates for service providers is very similar to merging storefront listings. One of the listings must be unverified, so you may need to cancel verification if both of them belong to you. If you own one of the two, claim ownership of the second listing and have the two merged — GMB will do this upon request.
If the duplicate has not been verified, you should find it in Google Maps and suggest an edit (see above). Specify that the place is permanently closed and choose a 'private' reason.
Step 3. Improving Your GMB Profile for Search
In search, when one company wins, another one always loses. When competitors rise in the ranking, they push you to the bottom. Optimizing the profile will give you an edge, so more potential customers will discover and choose your dispensary. Your listing should make them want to visit the store. It should project credibility.
Keys to Google Map Listing Optimization
To make your business shine in local search, follow these steps. These are simple but effective ways to boost your status.
Add Photos
One picture is worth a thousand words. This is the best way to show your customers what your business is like from the inside. Your images must be inspiring in order to drive sales. Aside from a logo and a cover photo, consider the following additions:
Photos from the Outside
Take pictures of your dispensary from different angles. They will help customers find the physical location. You may upload photos taken during different times of day depending on your business hours.
Photos from the Inside
Photograph the interior of your cannabis store. Show your customers what it is like to be inside. Take pictures that convey a welcoming atmosphere.
Other Photos
Aside from the exterior and interior, consider adding pictures of your bestsellers and staff. Here are a few suggestions:
photos of most popular CBD items;
photos of staff communicating with customers;
photos of common areas like cozy couches;
photos of your team and yourself to add a personal touch.
In terms of technical guidelines, upload JPG or PNG images, each between 10 KB and 5 MB in size. All of the pictures must be filter-free. Ensure proper lighting and focus. The lowest acceptable resolution is 720 px x 720 px. Finally, remember to include relevant keywords in the file names. They should describe your business and location.
Should I Geo-Tag My Photos?
Adding a geotag will give you an edge. The metadata of every image file will contain geographical information. For search engines, it will be easier to associate the photos with a particular location.
When users look for a product, they often specify the desired location in the query — for example, "cannabis dispensary, Prague". A strong connection between your store and its physical location boosts visibility in local results. Finally, the search also includes images, so your tagged photos may top the list.
You do not have to be an expert to include geographical tags. Use GeoImgr, a free tool for photo upload. It will allow you to add both tags and keywords to the metadata ( EXIF). Do this for any images shared on your GMB profile.
Add Your Products & Services
This gives an opportunity to show what you can offer and increase customer engagement. Adding products is absolutely crucial if the name of your business does not reflect what you provide. In terms of SEO, this data improves the quality of matching to local queries.
Engage With Your Customers
Create a memorable and engaging experience for potential and existing customers. You can do this by posting to your GMB profile. Like updates on social media, this information should pique the readers' interest. It is also a great way to keep customers updated about your offerings.
Frequency of Posts
All posts on GMB have a lifetime of 7 days. Therefore, the optimal frequency is weekly. This is not a social network, so do not try to accumulate a lot of posts. The idea is to keep the profile looking fresh.
Content of Posts
So, what exactly should you post? Focus on three crucial types of information. These are:
events,
offers/Specials
announcements
A great post includes five elements. If you want your profile to be engaging, make sure you incorporate all of them at once:
a suitable post type (see above);
a photo (juicy colors, good lighting, focus, no less than 400 px by 300 px, JPEG or PNG) or a video (up to 100 MB);
a title (description of up to 5 words and 58 characters);
more details (1,500 characters at most, but it is best to use between 150 and 300 characters).
call to action ("learn more", etc.).
Be Proactive with Questions
GMB has a special section for questions and answers. Make the most of it. Interaction is a deciding factor for many users when they compare competing businesses. Keep an eye on your Q & A section (you cannot turn it off), as anyone can answer those questions. Sometimes, you may see misleading, inaccurate, or tactless replies.
First, set up alerts to stay updated. Whenever someone asks a question, you will be notified, so you can reply before anyone else. Secondly, use this feature as a source of insights for your own FAQ section.
Post popular questions, answer and upvote them on your profile. This is perfectly legit. You may even incorporate keywords into both questions and answers — just avoid keyword stuffing.
Step 4. Getting Reviews on Google
Google encourages businesses to interact with their customers and respond to their reviews. The company's official stance is that replies communicate appreciation. They show that you value your customers and their opinions. In addition, "high-quality, positive reviews from your customers will improve your business's visibility and increase the likelihood that a potential customer will visit your location."
Businesses should react to any comments, both critical and praising. This builds trust, which is crucial for the bottom line. Meanwhile, Google wants to recommend credible businesses to users to motivate companies to interact with feedback. So, what is the best way to do this?
Building a Review Response Strategy
Every comment merits a response — a quick and gracious reply.  Here is how to deal with reviews regardless of their tone.
Dealing with Positive Reviews
Express gratitude. Show that you appreciate the support and feedback. This should not sound generic. Mention specific words in the review, and invite the author to come back. The customer must feel heard and valued.
Dealing with Negative Reviews
Give apologies and express gratitude. Criticism is your opportunity to do better. Show the user that their opinion counts. Remember that you communicate publicly, so avoid arguing, getting defensive, or blaming the customer. Keep it brief and polite.
The next stage is taking the conversation offline. Let the user know you will contact them directly to resolve the issue. This is much better than an immediate direct response. Otherwise, the audience may think you are ignoring the critic.
Set Up GMB Messaging
Users can text you directly. Their messages will come to the phone number specified on your profile. Enable the feature from the GMB dashboard, and use it to convey responsiveness and commitment to high service standards.
How to Maintain Your Google My Business Profile
As you can see, optimizing a profile is a complex endeavor. Make it an organic and ongoing element of your digital marketing efforts. Here are six elements of success.
Keeping the information updated.
Sharing posts and images weekly.
Asking for feedback and responding to it.
Replying to questions.
Replying to messages.
Adding new features.
Bringing value to customers is the beginning and the end of any optimal GMB strategy. This works for any part of your SEO campaign, both on-page and off-page. As an intermediary, Google strives to connect users to top solutions by providing full and reliable information. The steps we have described will make it easier for the system to find and trust your data. Eventually, it will boost your bottom line.
Sounds Difficult?
GMB optimization is not challenging, but it does require time. Many companies hire SEO agencies to delegate this endeavor. Professionals like MjSEO will help you to promote your CBD products locally.
Ready to Get More Traffic?
We've helped dozens of clients achieve remarkable results by increasing organic traffic and revenue for their online businesses. Let us put our expertise to work for you and help you reach new heights of success.
Get Started