Are Backlinks Still Important for SEO in 2023?

Are backlinks important for SEO? For years, websites have glorified backlinks as a sure way of attracting relevant audiences. But, observations show that other factors other than backlinks are taking the lead in helping a website to rank. Even authority sites like Google are of this opinion, but one thing is puzzling.
How can backlinks become valueless when Google and other search engines prioritize them by giving precedence to sites with backlinks to credible websites? Backlinks must have brought something valuable to the table to get that much attention.
So, why are backlinks important in SEO? In a nutshell, backlinks are relevant and aren't about to go anywhere, at least not anytime soon. They play an integral part in increasing your domain rating. If you're wondering how this works, let's dig deeper and discover why backlinks are an essential component of your website.
Why Are Backlinks Important for SEO?
The importance of backlinks in SEO is to foster credibility. Credibility is among the leading factors that Google and other top search engines prioritize when ranking a website. Without reliable backlinks on your website, making it to the first page of a search result can be challenging.
A search engine uses algorithms and spiders to gather intel about the quality of content you provide on your website. The total links on your page will determine the value of the content you offer. Industry leaders like Google will rank your site as valuable if you link to quality sites. The idea is to have a vote of confidence from other online sites through quality content writing to boost your search engine accessibility.
Backlinks help SEO increase or upgrade your SERP rankings, which is ultimately what every website owner wants. The more backlinks to your site, the higher your search visibility rate.
Backlinks important for SEO are an avenue that makes it easier for visitors to find your site amidst the millions of web pages available on the internet.
When readers use online resources and come across a link in an article redirecting them to your site, it's inevitable for them to click on it, especially if it has SEO connotations relevant to their research. If the link proves to be helpful, your online reputation increases significantly.
How Does a Backlink Affect SEO?
As we have already established, the importance of backlinks for SEO is to work as a resource for giving your website a good reputation. When plenty of other websites recognize you as an authority in a particular niche and link to your site as a reference, you attain a respected status among the internet bigwigs. This study by majestic shows the correlation between links and traffic on a website. It breaks down the information to show how external and referring backlinks from educational organizations, government sites, and various IP addresses affect SEO.
Most online sites on the first few result pages on Google have at least one backlink to their site. And they have competitive search phrases as anchor texts. A combination of search engine optimization and backlinks gives your site search visibility against other sites within your niche.
However, the importance of backlinks can be negated when not used well. A few years ago, backlinks were the holy grail of SERP ranking. Quality sites with the most backlinks would automatically appear on the top results on search engines. Consequently, website owners were desperate to have the attention these top-ranking sites had.
The desperation forced them to submit requests to relevant individuals to have them backlink to their sites to get the clout. This created an online syndicate that benefited the best-ranking sites on the internet. A little money would have these websites link to your site, ultimately improving your web page's ranking.
Google search had to change algorithms to pave the way for the Penguin Backlink Checker, which is more effective. This algorithm would crawl through websites to find unnatural backlinks to websites with zero authority. It meant that anything that wasn't organically placed would attract an exclusion from the ranking.
The app identifies websites that seem to have attained good ranks using unorthodox methods and blocks the particular sub-page involved in the irregularity. So, your page is taken from the best ranking region to the general pool section, where you have to fight back to the top.
And while this is possible, it may take time, and you may have to work extra hard to undo the mistakes by disavowing the spam or unnatural website links. Considering that this is a detrimental effect of artificial backlinks, it takes more than a sniff to have you on Google's radar. Some primary ways you may find yourself back to the bottom of the ranking food chain include:
Discrepancies detected by the algorithm.
Indulging in niches known for spamming.
Your competition flags your website for backlink spamming.
You can avoid negative SEO ranking on Google by adhering to the following steps.
Avoid Copy-Pasting Keyword-Dense Anchor Texts
You automatically get the plagiarism ticket when you duplicate an anchor text and the link used on it. On the other hand, websites are notorious for using word-for-word anchor texts they get from SEO search results.
The updated penguin algorithm detects that you may be paying someone to fill your text with niche-specific keywords if a sentence is spammed with such phrases. Ensure you keep your work free of such details if you want to keep soaring high on SERPs.
You May As Well Stay Away From Black Hat SEO Strategies
Blackhat back linking is a malicious activity that capitalizes on the website's loopholes to create backlink traffic. Websites that use this tactic incorporate various methods to force a website's backlink. One of the most unorthodox ways they do this is by hacking vulnerable sites and adding their website's links to content on this page.
Fortunately, Google's updated algorithm can effortlessly detect such instances, even when website owners can't. For such instances, this can get you arrested for breaching someone's privacy if the lawmakers get to you. And, Google slaps you in the face with a manual action that will damage your ranking on the search engines' results page. As such, this is not one of the best ways to promote your site. Always opt for the right link-building services to stay away from problems.
Keep Off Fake Profiles
People are getting creative in how they make money on the internet, and the creation of fake profiles is one of these tactics. Backlinking companies create fake profiles online and use these to insert links to particular websites for traffic and reputation purposes.
The downside to this is the numerous blog comments made in the comment sections. It's almost impossible not to spot these tactics. Once Google gets wind of such practices, you know your website is headed back to the bottom of the ocean.
Don't Force Issues with Automated Comments
The automated commenting option is the most unreliable method of sharing backlinks. Some people are notorious for using this option to spam many unsuspecting websites with irrelevant incoming links.
Fortunately for a site owner, the penguin algorithm is highly sophisticated, making it hard for perpetrators to make it past the first few attempts. Not only that, but websites also go to lengths to ensure such instances do not appear too often.
Can You Do SEO Without Backlinks?
Not every site has the privilege of enjoying backlinks. If you are just beginning to make your way up the ranks on the internet, it may take some time before you finally get recognized. So, how do you go about ranking at the top without backlinks? The secret is through non-competitive SEO keywords.
So, yes, you can effortlessly use SEO without backlinks, but achieving the industry respect you desire may take longer to be considered worth reckoning with. However, you will have to use all other available methods to make the work less strenuous. For instance, you should offer meta descriptions for your website. The Meta description allows readers to have an overview of what content they expect to find on the website, before clicking on the link. However, you should use relevant SEO longtail keywords to attract a substantial following.
One blogger, Self Made Millenials, shows how easy it is to rank without backlinks. Her focus is on using optimized content. The website receives ranks for hundreds of keywords daily. One of her posts ranked 8th on Google, thanks to this strategy. Here is the case study to help you understand how better to achieve impressive results minus backlinks.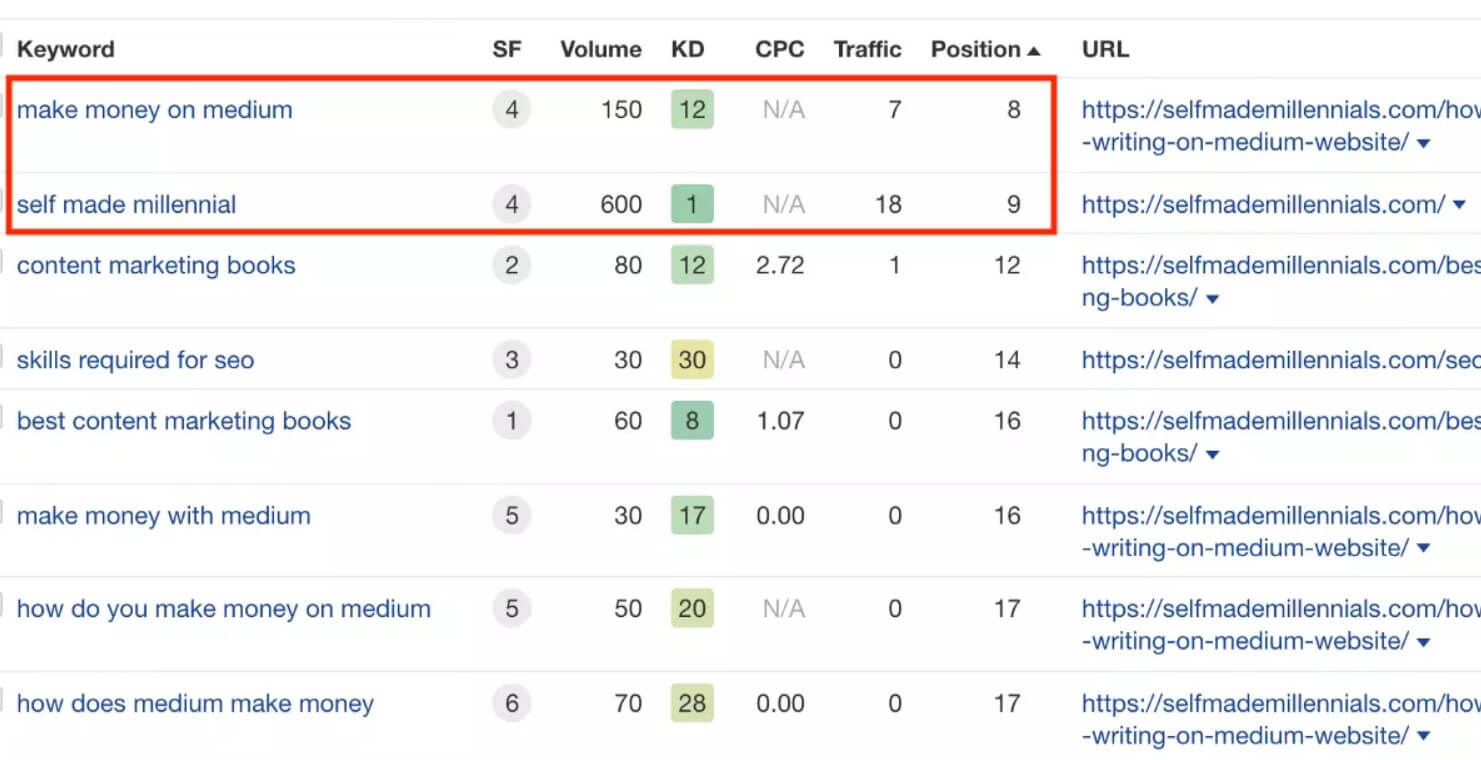 You can talk about the most recent happenings within your jurisdiction or around the globe (If you believe in yourself that much) to increase your chances of getting visibility. Other websites will come to your page to seek more information about trending news, which eventually brings you up into the light steadily.
Offer the best SEO keywords and back them up with quality content to avoid pogo-sticking. If you are new to this term, it's when internet users visit your site and exit almost immediately because they did not get sufficient information. Crafting elaborate posts can also garner a following, especially if you solve a problem.
And if you can't backlink, how about using inbound links? The internet is paved to allow websites to intertwine and blend for better results. Most importantly, you must ensure you create the most appealing and informative pieces to advance your success.
One thing to note is that backlinks are vital for competitive niches such as cannabis. It's an indicator that your website is taking many correct turns to succeed. Check out these 10 SEO tips for the cannabis business.
How Many Backlinks Do I Need to Rank #1?
The number of backlinks you use is directly proportional to your keyword difficulty. Therefore, you need access to a keyword checker to know how far you are from appearing on Google's first page. For example, CBD companies that want to rank for keywords like 'Buy CBD, CBD online, or buy CBD online' can use such tools to help find the right CBD SEO words. Here is information from the internal tool we use to analyze our competitors. As you can see, the median value of competitors in the TOP is as follows:
Median DR = 60
Median Ref domains per URL = 781
Median Ref domains per domain = 3085.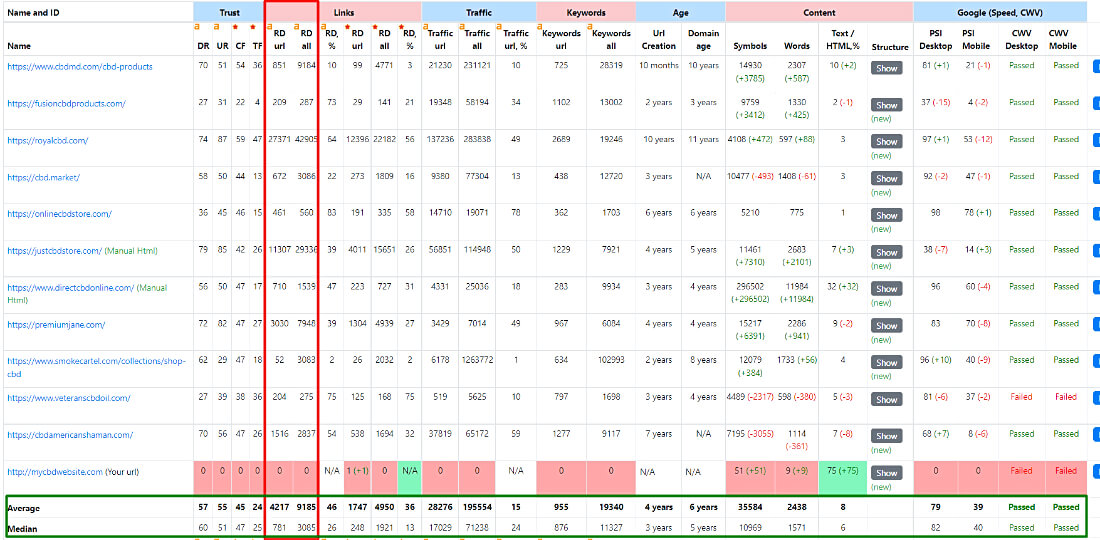 It would be best if you achieved these metrics to rank in the top 10 for these queries. Either way, other metrics worth using are available, and they include:
on-page optimization;
word count;
internal linking;
content structure;
Core Web Vitals metrics;
domain authority.
Nevertheless, backlink importance is only valuable when you get backlinks from high authority sites. So, ultimately, the number of backlinks does not matter, but quality backlinks do. These also have to be relevant to your site's niche for the linking to be effective.
So, How Important Are Backlinks in 2023?
Undoubtedly, backlinks are vital. They make your work less strenuous. A vouch of integrity from respected industry moguls will boost your website, which ultimately increases the possibility of appearing on the search engine's first result page.
However, only organically placed relevant website links will do the trick. Anything short of that attracts scrutiny from the big brother.
Ready to Get More Traffic?
We've helped dozens of clients achieve remarkable results by increasing organic traffic and revenue for their online businesses. Let us put our expertise to work for you and help you reach new heights of success.
Get Started