10 Cannabis SEO Tips that Really Work in 2023
If you are the owner of a cannabis site that is at the TOP of search engine results, then you probably know why you need the best cannabis SEO tips. After all, most likely you have got there with the help of this type of promotion.
In this post, we have prepared effective recommendations for building an SEO strategy that will improve the ranking of your website in 2023. These 10 tips will help you increase the traffic to your website and get to the top position in the SERP – you just need to apply them correctly!
Do in-Depth Keyword and Competitor Research
You should appreciate the fact that you are not the only CBD business online and therefore check what competitors are doing to rank higher on google searches. Of course, you should only check the ones performing well online. Check to know the kind of strategy your competitor is employing to stay on top of the game.
Another crucial detail you should check is the keywords that your competitor is targeting. CBD keyword research is undoubtedly important when it comes to increasing the ranking of your website. You need to collect a detailed semantic core, which will later help you create a structure and content plan, as well as find low keyword difficulty (KD) keywords that can bring quick results. Also evaluating your competitor's structure will help you identify the loopholes in it and do it differently to stay ahead:
After identifying such target keywords, you will then be able to build your effective SEO strategy around them. When linking, only use quality links. For instance, only link to reputable sites. On the same note, make sure only high-ranking and relevant sites link back to you. Note that a single high-quality link is worth thousands of sub-standard links.
The best thing is that when it comes to link-building, it doesn't matter whether you started earlier or today. For instance, by evaluating the number of new referring links you can know the rate at which your competitor is getting a new link and their source. This implies that you understand what to implement to get ahead of the competition.
Since the CBD market is expanding every day, new companies are joining the bandwagon to take their market share. There, you need to look at what your competitors are doing and do it better in order to stand out from the rest.
Apart from the keywords and strategies that you employ to rank higher, the type of CBD product you are offering will also impact your website traffic. So, apart from implementing such strategies, you need to seek professional guidance.
Create a Perfect Site Structure
If you have a CBD e-commerce store, then you must have an ideal structure created (both for search robots and for people). You need to put down all the main sections of your website and envision the structure, breaking it down into subsections and then specific pages. It is also worth pointing out that you need to adhere to the golden rule "1 keyword group = 1 landing page" – that is, each page on the site must answer its own group of queries, and not create several pages for one keyword group.
When categorizing pages, the following SEO tips for marijuana dispensaries will guide you:
Ensure every page can be accessed effortlessly regardless of how complex your structure is.
When building a hierarchy, do not solely rely on target keyword search volume since the most searched query is not always the top keyword for each page.
If you want to use filtering options, be careful when implementing them, especially if used alongside each other.
Make sure your site is scalable. This ensures that whenever you want to incorporate new categories and subcategories, you can achieve that without reworking your structure.
Another important aspect worth noting here is that a good structure will make it easier for you to implement technical SEO. Note that implementing technical SEO is impossible without a robust structure since most technical SEO factors responsible for indexing and page crawling depend on the structure. This takes us to the next point.
Perform Technical SEO for Your Website
You can write great content that sweeps readers off their feet and build great links. However, if you don't implement technical search engine optimization, your site will not grow as rapidly as you thought it will after doing all that.
Therefore, you need to do qualitatively technical SEO once and then focus on others. Always remember that the technique is the basis for the growth of SEO indicators.
Advanced Link Building Strategy
Sometimes you might be tempted to be a link schemer when building backlink strategies but this will eventually hurt your overall ranking.  Try to monitor your anchor links and understand the situation on the market. Make sure only authoritative and trustworthy websites link back to you. You can also contact cannabis sites and request links. Or still, you can find a professional link-building company to create CBD backlinks for you.
Sometimes you could find yourself with toxic backlinks. In this case, you can get rid of them so that your ranking on Google is not affected. The Google Search Console gives you a report with a breakdown of such links. From there, you can initiate a disavow process and then add your list to Google Search Console so that Google knows that such links are no longer in any way associated with your weed brand.
Create Google Business Profile
This step is crucial but many businesses often skip it. But if you have a dispensary, then you definitely need to create, optimize, and develop your business profile through local SEO. Provide users with as much information as possible so that they can contact you if necessary. Moreover, this option is essential for  "local Dispensary SEO", as people who are looking for a "dispensary near me" or are using Google Maps to find something will see your profile right at the top of the SERP:
You can check our checklist on optimizing Google My Business. With a well-optimized Google My Business profile, your CBD dispensary will appear first when people search "dispensary near me". Therefore, it is essential to be on the top list in order to get the attention of more users.
Apart from creating a Google Business Profile, you should also list the areas in which you operate on your site. It is recommended that you create a page dedicated to each city or municipality including the services that you offer in each area.
Also, ensure that you are listed on other local area citations such as cannabis directory sites and your local chamber. All these local dispensaries' SEO tips will help to promote your local cannabis dispensaries.
Use Content Marketing Strategy
This is one of the most effective ways to educate your audience and get new visitors to your website. First of all, cannabis is still a disputable topic and many people don't know enough about it. In that way, they won't buy any cannabis products even though they might help them. Educating people makes them more tolerant of something and explains to them why they might need your product. Over time, they can become your customers because it is you who taught them and they already have trust in your brand.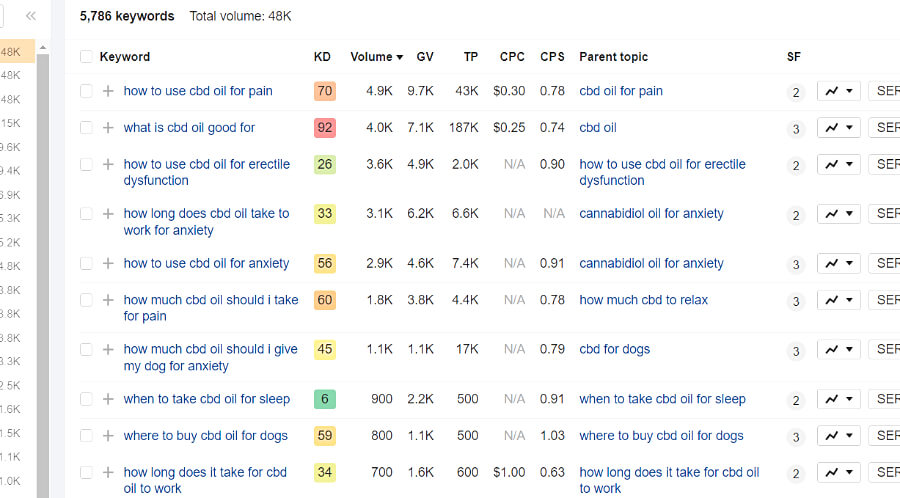 Secondly, you should understand that when people are looking for something on the web, they are using organic search queries. And search engines find web pages that correspond to these queries and might be useful for people. The best option is to fill in your blog with useful and reliable content so that people would come to your site and spend some time there. This will increase the trust of search engines in your platform.
You should also know that maintaining a blog is another thing you should take seriously. Here are some marijuana SEO tips to emphasize when it comes to cannabis content marketing:
Create a content strategy and post regularly.
Don't try to advertise your products; it is better to be an educational resource.
Don't forget about the structure of the articles: use meta tags, subheadings, target keywords, and so on.
Make your articles easy to perceive – subheadings, lists, and images will help you here.
Write at least 500 words. For some topics, this amount can be much bigger and it is better to conduct a competitor analysis.
Create High-Quality Content
The quality of the content on your website should be top-notch. The cannabis niche mostly belongs to medicine, therefore, canna websites fall under the category of YMYL (Your Money Your Life). Therefore, the correctness of the information you post is crucial.
More so, you need to enhance and demonstrate E.A.T (Expertise, Authoritativeness, and Trustworthiness) in your content, which is very important for the cannabis industry. But can you really demonstrate E-A-T when you don't have it? Well, that should be the first thing to conquer. Click here to learn more about E-A-T so that you can incorporate it into your content.
Also, keep posted about the trends in the cannabis niche, as well as check the activity of your competitors. And whenever you notice anything new, create high-quality content about it as a specialized blog. Creating comprehensive write-ups such as authority posts and in-depth guides shows the readers that you are confident and well-versed about the subject.  Stay on top of the cannabis trends, follow the updates of your competitors, and offer the guidance necessary for others to excel. For great content writing services, see this page and get started with our competent writers.
Understand User Search Intent
A weed SEO professional should know how cannabis users search when looking for CBD products.  This is an essential step after understanding your competitor. For instance, they could search 'how-to, tips, what is, buy, near me', etc. Depending on the user intent of the request, the presentation of the content should also change.
Note that, as far as the use of keywords to drive traffic is concerned, the way people are searching for products online is changing and now it is more dynamic and 'long-tail' compared to past years. Also, thanks to the introduction of voice search on mobile devices, people are searching differently on mobile phones than they do on desktops.
For example, thanks to voice search most users won't search "CBD products near me". Instead,  they are now asking the entire question: "Where can I find CBD products near me?" This shows that long-tail keywords are the future of the next Google search capabilities.
Therefore, it is imperative to have a better grip on how your potential customers are utilizing search engines in order to come up with an operational cannabis strategy. This also tells you that you should have a mobile-friendly website.
Update Your Content
We cannot emphasize enough the importance of keeping your website up-to-date. It is an essential ranking factor for search engines. Whenever you update the content on your cannabis website, Google sees that you are updating the content and ranks you higher, it also impresses your followers.
However, this shouldn't be done haphazardly, and you need to know what to add and what to remove from your content, of course, following all SEO strategies.
So, in deciding what to update, you should collect the right data and identify the posts that need updating. Theoretically, you need to update all of them. Nevertheless, you need to decide where to start. So, how do you identify the pages to start with? Look at the following metrics:
Pages receiving high traffic but very low conversions. The potential for these pages to bring in more leads is high if well optimized.
Pages receiving low traffic but high conversations. By increasing the traffic of these pages, the leads could be increased.
Former popular content. These are the pages that got a lot of shares and links across social media platforms during those good old days but whose ranking and traffic have decreased.
Of course, there are many things you need to look at when updating the content including the headlines, keywords, and analyzing the search intent. However, there is a need to update the actual content. When doing so, you need to check on the following things:
Accurate data – Is there new data or information added since you posted your article? If so, update it.
Broken links – Make sure the outbound links are leading to updated pages.
Fresh visuals – Update the images and any graphs you may have used in your text.
Grammar, writing, spelling – You keep becoming better at what you are doing, so it is time to transfer such skills to your work.
Internal links – You have been continuously writing new content, so it is time to link to them from your existing content.
Analyze Your Data and Track Your Performance
An SEO campaign cannot be complete without analytics. Therefore, it is necessary to analyze the data and draw certain conclusions and adjust the strategy. Luckily, you can track your traffic and conversions through Google Analytics. Our cannabis SEO services can help you identify what is and what is not performing for your cannabis on-page SEO, as well as we will analyze the whole website and promotional strategies to help your site perform better and achieve more prominent results. Get in touch with us today as you start your new traffic.
To Wrap up
Creating a cannabis website is just the first stride in cementing your online presence. To grow your cannabis business and remain competitive you need robust content marketing and SEO services. But can you achieve this on your own? Yes, but hiring a professional is more prudent.
Promoting the ranking of your cannabis website on search engines is possible without a strategist, but it needs a lot of time to achieve the desired results. Luckily, the cannabis SEO tips we have highlighted above will guide you on the right track. However, the key to achieving excellent SEO results is attention to detail, persistence, and knowledge!
Ready to Get More Traffic?
We've helped dozens of clients achieve remarkable results by increasing organic traffic and revenue for their online businesses. Let us put our expertise to work for you and help you reach new heights of success.
Get Started