10 Best Marijuana Affiliate Programs to Join 2023

Cannabis is a booming business taking over the world's view on hemp affiliate programs. Marijuana sellers use cannabis affiliate programs to get the attention of buyers all over the globe. Affiliate programs are a safe way to advertise and leverage clients without attracting bad publicity from the federal government.
While this route is reliable and convenient, looking for the most trusted affiliate programs to join is vital for the success of your online sales career. The most trustworthy programs offer great commissions and are reliable when giving affiliates their reimbursements.
If you are a marijuana enthusiast trying to figure out an alternative option for making money, take a look at the top marijuana affiliate programs to join. We evaluate commissions, cookie durations, available software, and the markets you will interact with when you pick one of the ten legal weed affiliate programs in this review.
Best Cannabis Affiliate Programs
Choosing the perfect program to join out of the hundreds of marijuana affiliate programs on the internet can be challenging. But with our help, you can sift through a few options suitable for your expertise and state legal concerns. Here are our best ten picks:
How to Grow Weed 420
Program: Gem Underground
Commission: 57%
Cookie duration: 60 days
Software: GoAffPro
Market: North America
This system is among the most rewarding weed affiliate programs online. It offers a whopping 57% commission per sale to affiliates. Anyone who joins how to grow weed 420 has the mandate of convincing weed growers or marijuana-growing aspirants to buy the handbook.
It covers many questions that would trouble an entrant pot farmer. The company also offers beams that help weed farmers create an optimum environment for the growth of their produce. Thankfully, it provides a 57% commission to all beam wattages for a successful purchase using your link.
Affiliates also benefit from multi-level marketing if buyers use their promo codes. The downline option allows you to enjoy rebates when new members use your link to sign up as affiliates. Every sale the new members make earns you some coins.
The 60-day cookie duration keeps tabs on potential buyers who take their time to decide, ensuring you receive your funds once the sales are closed. The program uses the GoAffPro software, which is easy to understand, even though it is technically advanced.
If you're not conversant with online cannabis affiliate marketing or would like to take advantage of all available options, you can earn commissions by:
Setting up a booth at the next weed convention;
 Attach business cards to tutorials;
Share your business cards and fliers.
You also get round-the-clock support if you have any questions regarding the affiliate option you choose.
Crop King Seeds
Program: Crop King Seeds
Commission: 20%
Cookie duration: 90 Days
Software: N/A
Market: Worldwide
Crop King Seeds is intent on monetizing every product in its catalog, making them the perfect choice for anyone with enough clout to make this happen. To qualify for this cannabis affiliate program, you must have a website that drives traffic. Thankfully, it does not have to be cannabis related.
A social media account, Youtube channel, blog, or podcast with circulations on Spotify or any other major broadcasting networks are other excellent channels to use in your application process. With these tools, you can attract as many clients as possible, allowing you to reap a whopping 20% on every sale procured through your broadcasting options.
A 90-day cookie retention policy enables you to get leverage on profits made through your link for an extended period. Crop King Seeds ensure all affiliates receive their funds before the end of the first two weeks of every month. And, they send you the money electronically, thereby reducing the need to use demanding traditional banking options for this gig.
The average affiliate member earns at least $300 every month, meaning there is potential for better earnings if you are good at affiliate marketing. Most importantly, the business has been functional for 17 years, making it one of the most trustworthy cannabis affiliate programs.
Fast Buds
Program: My fast buds
Commission: 50%
Cookie duration: 180
Software: Post Affiliate Pro
Market: Global
My Fast Buds is a global company that sells high-quality cannabis seeds to pot growers. Thanks to their auto-flowering property, the company's seeds are unique from most other sellers in this niche. It capitalizes on social media users who have a significant following.
You can use your following to make money if you're a social media mogul. Share your link on your social sites and invite friends to get cannabis seeds from this company to earn cash. The company is generous enough to give you half their sales profit.
With the tremendous monthly promotions it offers, it wouldn't be challenging to convince users to hop onto the fast buds bus. Aside from the main commission, you can earn extra money thanks to multi-level marketing. Affiliates receive anything between 20% – 35% on tiers sales commissions.
Referral stipends range between 5% – 10% depending on the amount of money the buyer spends on the site. Referral fees earn you cash forever, so the more members you have under your tier, the better. Global shipping is available for select countries with legal marijuana affiliate programs.
Kanibi
Program: Kanibi Affiliate Program
Commission: 20%, 27% and 30%
Cookie duration: 120, 60, and 90
Software: Avantlink, Affiliate Pro, Rev offers
Market: Global
Kanibi is among the most versatile cannabis affiliate programs available online. The Utah-based cannabis company produces an array of marijuana-induced products, including creams, gummies, oils, and tinctures.
This company uses three software channels for its affiliate program, allowing users to choose what suits them the most. The affiliate software also comes with different cookie durations and commission percentages. All three networks integrate with Affiliate for easier use.
Kanibi requires affiliates to channel at least 5000 visitors to its site each month, so you may want to sit out on this one if you're starting as an affiliate.
GrassCity Affiliate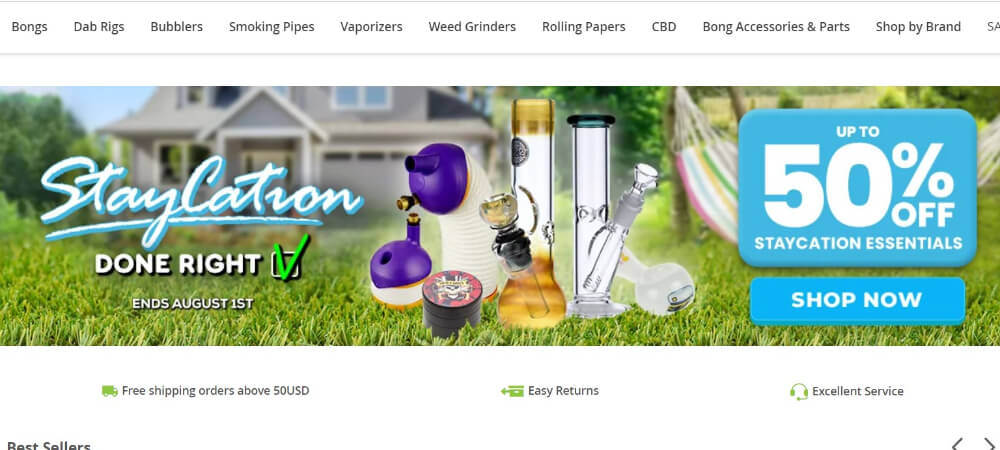 Program: GrassCity Affiliate Program
Commission: 8%
Cookie duration: 60 Days
Software: In-house
Market: North America
Dubbed the world's best online headshop, Grasscity is among the most exhaustive shops that offer marijuana accessories. When you join the affiliate program, you specialize in attracting clients who will purchase the available products.
Thankfully, the shop has a wide selection of products from which potential buyers can pick, ranging from bongs, dabs, grinders, and hemp-derived products. Every sale earns you an 8% commission, meaning you have to be an aggressive marketer to benefit significantly from this program. Other than the commissions, affiliates also receive good bonuses each month, depending on their sales.
Sadly, this company only sells its goodies within North America, but it doesn't discriminate against you from being one of their affiliates, regardless of your jurisdiction. The organization uses in-house software to track your progress and tabulate your earnings.
Green CulturED Affiliate Program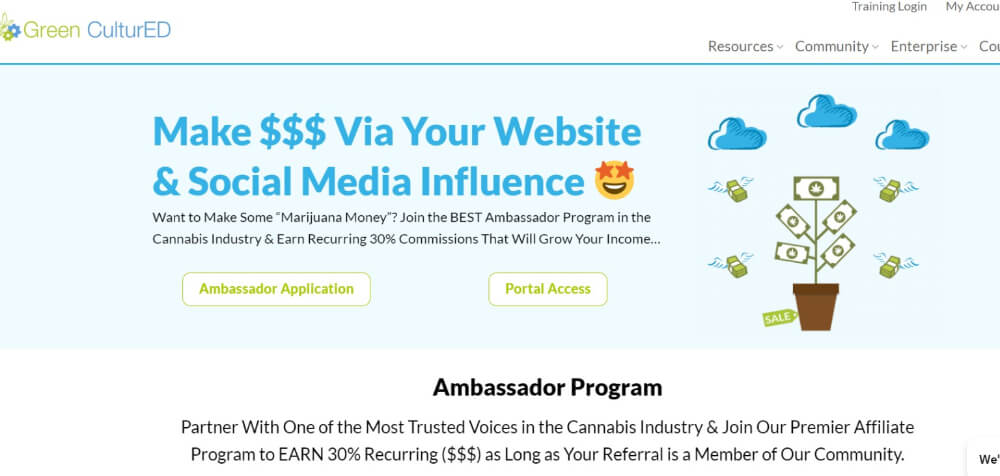 Program: Green CulturED
Commissions: 30%
Cookie duration: 120 Days
Software: N/A
Market: Global
Without education, it would be impossible for farmers and cannabis business owners to actualize their dreams through hemp production. GreenCulturED provides a learning platform, enabling individuals interested in investing in this niche to effortlessly transition into it, thanks to the availability of adequate information.
Green CulturED is among the legal marijuana affiliate programs that provide multiple tools which make your work easier. Promotion management, link tracking, custom e-mail templates, and top-notch customer support are the most reliable resources for ambassadors.
Considering that this affiliate program is exclusive, the website must approve you before letting you join the team. The software conducts real-time reports to help you gauge your progress and see what you can do to achieve better results.
You must have access to at least 5,000 e-mails considering this program works primarily through e-mail marketing. Regarding payouts, this cannabis affiliate program uses a secure platform that sends you notifications once you receive the funds.
AirVape
Program: Air Vape Affiliate Program
Commission: 15%
Cookie duration: 30 days
Software: SOVRN
Market: Global
Vaping is becoming popular among smokers, especially because it does not carry the heavy side effects observed in traditional smoking products. AirVape is revolutionizing how medical marijuana is used with the help of its discreet vaporizer.
Pot users can easily slide the leaf into the tube and smoke away. Thanks to its smell-resistant properties, no one has to know what you're smoking when you fire up the thing. Additionally, you can use it for concentrates for an even better experience.
Affiliate commissions stand at a standard rate of 15% per sale. However, the earnings per click take the day, with affiliate members earning $65.82 per successful click. The item comes in a sleek package, making it easier to convince smokers to shift to the new smoking gadget. This program is available in the USA and the UK, but the item ships to multiple countries globally.
Aero Garden Affiliate Program
Program: Aero Garden
Commissions: 7.5%
Cookie duration: 40 Days
Software: CarkRevenue
Market: Global
Everyone has a gift ad for some people, and farming just doesn't work. Aero garden understands this, so they provide a ready-made gardening farm to enable you to grow your hemp plants with a sure success rate.
Affiliates receive a commission of 7.5% for every sale they make. This may seem like a meager amount, considering most clients get this tool in bulk; you are assured of a sufficient amount every month if you bring in at least ten clients to shop on the website.
The 40-day cookie policy gives you ample time to reap referral fees. And thanks to their world-class affiliate software, you can track your progress as you work.
Sensi Seeds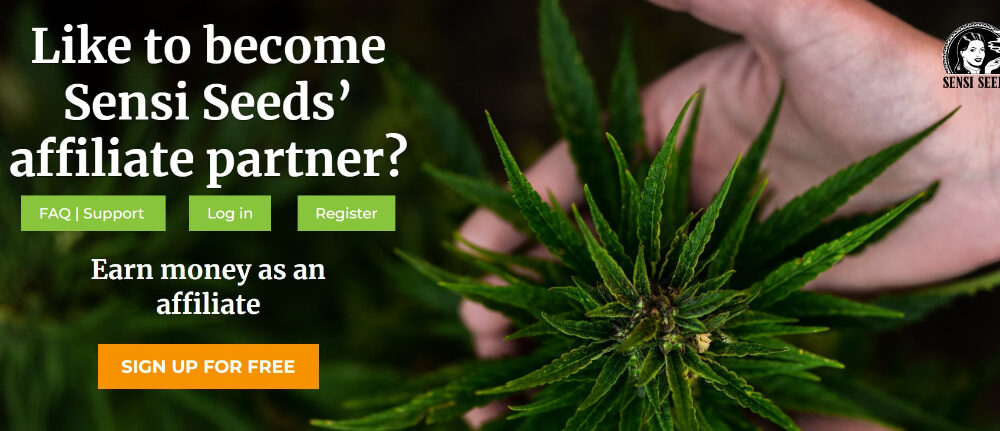 Program: Sensi Seeds
Commission: 20%-30% and 17.5%
Cookie duration: 14 days
Software: Post Affiliate Pro
Market: Global
Partnering with Sensi Seeds allows you to market top-grade seeds to marijuana farmers around the globe. This company boasts of being the pioneer of the cannabis seed industry. The company opened its doors during the late 1980s.
Affiliates take home anything between 20% – 30% on successful seed sales. This figure is dependent on the number of seed packs the buyers get using your affiliate link.
Aside from selling cannabis seeds to farmers, this entity partners with the Dutch government in Holland to supply weed genetics for science. The 14-day cookie duration is the only downside to joining this affiliate program. Aggressiveness helps when it comes to hacking this tight deadline.
Dorm Grow
Program: Dorm Grow Affiliate Program
Commission: 8%
Cookie duration: 90 days
Software: Not Indicated
Market: Global
Light is important for the optimal growth of weed plants. Since the sunlight does not offer enough, pot farmers source alternative options to get the right light wattage for their plants. Dorm Grow specializes in producing G8LED grow lights. Through this cannabis affiliate program, farmers also get tons of information about their venture with a purchase.
Affiliates do not get such a lucrative commission, making this one of the least sought-after affiliate programs. However, what this system lacks in commission percentage, compensates for in cookie longevity. The program stores cookies for 90 days, enough time for a prospective buyer to decide.
What Do You Need to Promote Your Affiliate Site?
Cannabis-related affiliate programs require a personal touch. You have to be actively involved in attracting quality people in numbers. Here are some resources you must have to succeed in the marijuana affiliate program.
Backlinks
Also known as inbound links, these are links that other websites to your website. Google and other search engines consider backlinks a vote of confidence to the recipient. If you're new to the game and are trying to get backlinks from authority websites, your best shot at getting the attention is to craft informative content. Doing this shows other websites you are an industry guru, making it easy for them to direct readers to your website for an in-depth analysis of a particular subject using backlinks.
Social Leverage
Social media is among the most powerful tools to use in promoting websites. The most integral part of a cannabis affiliate marketing plan when promoting marijuana content is building a social media presence now that ads aren't yet accepted. Engage with followers on social sites and give detailed information on the benefits of cannabis products you sell, and demystify misconceptions about the brand.
Joining marijuana ad networks is another way to build your brand. In these forums, you get information about marijuana directories and how to get enlisted in them for ultimate visibility. This Leafy vs. Weedmaps review gives detailed insight into cannabis directories and more.
On-page SEO
Optimizing content on a website is the simplest way to describe on-site SEO. Instead of focusing on backlinks, you can organize your website to make it user-friendly. And while SEO plays an integral part in this area. However, one of the most helpful cannabis SEO tips is ensuring you do not spam the site with keywords trying to rank at the top of SERPs.
If this proves to be challenging, you can use the help of Marijuana SEO services to get the workload off your shoulders. Aside from this, see that you offer in-depth information that isn't a duplicate of what your competition is doing.
Provide video content
Video logs are essential in attracting a following thanks to their ability to help listeners and viewers understand concepts much more easily. Set up a quality marijuana affiliate program vlog and post videos that help viewers with marijuana-related products. You want to come off as an industry guru, so do your homework well before uploading a video for viewership.
Use some of the most reliable video streaming platforms like YouTube and stream lab for this work. Also, you must ensure your videos are content-packed. Give the viewer value for their time and add something new to their knowledge library. Of course, remember to stay relevant always.
Share testimonials
Nothing attracts more traffic than positive product testimonials. Share as many positive reviews from satisfied customers on your website, social sites, or video streaming platforms. Keep these testimonials in an easily accessible place to allow viewers to find them quickly.
Get help from influencers
Sometimes, taking off the ground or moving to the next tier can be challenging. So, if you've joined all marijuana affiliate programs, offered testimonials, and tried on-page SEO but are not getting the desired results, you may want to try social media influencers. These individuals have the leverage to millions of subscribers, who can be your next customers.
It's good to note that this tactic costs a significant amount of money, so you may want to scout around for an influencer that suits your budget.
Marijuana Affiliate Program Wrap Up
Marijuana programs are essential in the marketing chain for cannabis products. These systems make it easy for weed sellers and buyers to locate each other online and conduct legal transactions. Ensure you find programs that have been functional for years before signing for any.
Pick programs that promote products you're passionate about if you want to see results quickly. It's less strenuous vouching for items you like. Finally, ensure you partner with the best marijuana affiliate programs that have a website compatible with desktop machines, laptops, mobile devices, and tablets for easy access.
Ready to Get More Traffic?
We've helped dozens of clients achieve remarkable results by increasing organic traffic and revenue for their online businesses. Let us put our expertise to work for you and help you reach new heights of success.
Get Started