12 Best CBD Business Opportunities to Get Started
Cannabidiol, or CBD, is a naturally occurring chemical in cannabis plants, and now, you can find many CBD products that can be consumed, applied, or ingested. They are available in health food stores, local restaurants, and grocery stores. The cannabis industry is waiting for those with CBD business ideas that can help propel the industry forward. There are plenty of CBD business opportunities for those looking to start a CBD business.
Is the CBD Business Profitable?
The CBD industry in the United States is expected to reach $20 billion by 2024. If you want to get into the growing CBD industry, there are plenty of CBD business opportunities. However, several critical aspects should be considered if you want to succeed.
There are several methods to profit in the CBD sector. You might start your own CBD business by investing in CBD products such as oils, tinctures, and lotions. Another option is to become a distributor for well-known companies and sell CBD products on your website or in a local brick-and-mortar store. To make money through advertising, you might also generate CBD and hemp-related material through social media marketing.
Whatever technique you use, there are several essential areas that you must concentrate on to be successful. These include efficiently promoting your business with specific CBD marketing, building a strong brand with exceptional customer service, and selecting high-quality items that appeal to your target market.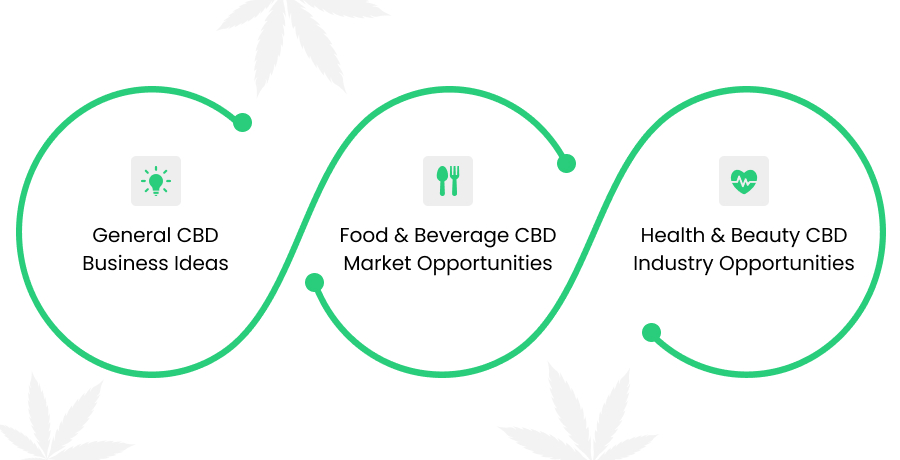 General CBD Business Ideas
Let's get started with general ideas on how to launch your business in the CBD niche market. Be sure to stay current with industry developments and laws, which is crucial for remaining competitive and avoiding legal issues.
#1 – Become a CBD Distributor
Being a CBD merchant is one of the top business CBD oil distributor opportunities for entrepreneurs in 2023. The retail strategy is simply purchasing CBD items from a wholesaler or a manufacturer and marking them up to make a profit. There are CBD business opportunities in conventional stores and online platforms, but you will need a location to keep the items regardless.
There is also the idea of CBD Dropshipping, in which you sell CBD products on your website, but the order is fulfilled through the manufacturer.
The next challenge is deciding what things to sell. CBD products come in a wide variety. Cannabidiol is now found in practically everything. A 2020 study by Single Care found the items that new users were willing to try.
29% of people are interested in CBD lotions and balms
28% – in CBD gummies
26% – in CBD oils/tinctures/drops (oral)
18% – in CBD capsules/tablets
18% – in CBD oil sprays (topical)
17% – in CBD-infused food (e.g., CBD chocolate)
13% – in CBD vaping products
12% – in CBD soap
11% – in CBD-infused drinks (non-alcoholic)
9% – in CBD bath bombs and bath salts
9% – in CBD-infused alcoholic drinks
8% – in CBD skincare products
8% – in CBD patches
1% – in other CBD products
Choosing the best CBD wholesale program for your company is critical. Partnering with a supplier who is unreliable or does not supply high-quality items will have a negative impact on client satisfaction and your company's reputation. Find a reputable CBD supplier that has good quality products, good communication, preferred payment methods, and a quick turnaround time.
While you may not need a CBD business license, your business documents should include a standard reseller license to sell goods. The best CBD business opportunities involve reselling products from small businesses to improve their reputation and brand while also creating profits for your CBD business.
#2 – Run a CBD Social Media Channel
If you are looking for CBD online business opportunities without a lot of overhead, running a CBD social media channel could be an interesting venture. With multiple platforms available, you can decide what content you want to create and how often.
Videos with educational content are a great way to educate viewers about CBD and its properties. You can discuss healthy benefits, products, and news about CBD products sold. If you don't want to be showcased, you can also start your own CBD podcast.
A hemp or CBD podcast is an excellent way to promote products and services, generate money through sponsorships, attract crowdfunding possibilities, and increase your bank account through online advertising, conferences, and literature.
Research shows that most users use Twitter for CBD discussions (49%). After that, it's Reddit (25%), Instagram (9%), and Youtube, with the lowest rate (3%). You should know that CBD advertising is not permitted on all social media sites. Facebook, for example, reversed its prohibition on CBD products, enabling marketers and influencers to post advertisements promoting therapeutic hemp products. Although Instagram and Twitter do not allow paid promotion for CBD products, influencers can still share information about new products and link back to their website.
#3 – Become a CBD Blogger and Reviewer
Blogs are an excellent approach to generating trust and a leadership position in the CBD market. If you are continuously posting new content and have many followers, becoming a part of the CBD influencers and influencing their purchasing decisions can be a method to earn money and, in time, can even evolve into a full-time profession.
The use of internet advertisements is one of the ways in which one may profit from the chances presented by the CBD business. You can make money through advertisements in two ways: either join a CPM network and receive a set amount based on impressions or get paid for each click. Both of these options allow you to make money.
It makes no difference if a visitor clicks since you will still be charged for displaying the advertisement regardless of whether or not they do so. You may make significant money by selling advertisements directly if you get a lot of traffic or have a large following. This gives you more control over the placement of advertisements and enables you to set your own prices and limits.
Another way to get income from your CBD blog is to participate in sponsored post programs and brand promotions. You can promote CBD goods in exchange for money via these directions, and your deliverables may include product-focused blog posts, videos, and social media postings.
#4 – Create a CBD Subscription Box
Subscription services have grown in popularity, from personal care and cosmetic items to apparel. If there isn't a specific CBD and hemp business opportunity you wish to follow, a company concept like this might be suitable.
Launching a CBD subscription box service may be a fantastic idea with the growing popularity of CBD products. A subscription service entails paying monthly to send a box of specially curated items to your home. Customers can't choose what will go in their box, which adds to the idea's emotional appeal.
Many CBD retailers use subscription programs to generate recurring revenue. You can anticipate your monthly revenue based on who subscribes because you are in command of pricing the CBD subscription boxes. Managing cash flow and maintaining clients will be a snap with consistent monthly revenue. Furthermore, by examining returning consumers, you may learn how to evaluate client retention; the greater your subscriber base, the more appealing you will be to find investors.
This CBD business opportunity requires you to search for a reliable CBD supplier for your items, constantly changing the items in the box and finding CBD niche products. This creates urgency with your subscription box if you carry exclusive items.
Food & Beverage CBD Market Opportunities
Although still new to the scene, edibles are gaining in popularity. In 2021, candy was the most popular CBD-infused food purchased, with 68% of the market. Infused foods were only 6% of the market, but more and more users are trying CBD-infused snacks as another CBD product in their arsenal. Have a look at some of the ideas to enter this business below.
#5 – Create CBD-Infused Food and Snacks
CBD's medicinal benefits are gradually and steadily released after ingestion. When an infused edible goes down the esophagus, acids and enzymes break it down before the principal cannabinoids are ingested via the stomach lining. You must extract CBD oil from the hemp plant to make CBD edibles. This oil is then infused with carrier oil before becoming a tasty treat.
Some food and snack hemp business ideas include:
CBD cookies, like regular cookies, comprise baking materials with the addition of cannabidiol. Most recipes call for vanilla extract, which is how you can include CBD oil. You may change the amount of CBD oil used to suit your taste and demand.
CBD-infused gummies are edible sweets in various tastes, sizes, and colors. CBD gummies can be manufactured and sent over state lines in the United States.
CBD protein bars are a great hemp business idea. Handmade CBD bars are simple to make and are very popular with athletes.
CBD-dried fruit is a healthy alternative to candy for those who do not have a sweet craving.
#6 – Open a CBD Restaurant
If you'd rather witness the joy on your customers' faces when they bite into an infused edible than ingest CBD edibles at home after purchasing from your business, why not open a CBD-focused restaurant?
Of course, you must set aside time and money to arrange a venue where your visitors can consume CBD-infused foods and socialize. However, because you may plan events within a restaurant, change the menu regularly, and propose specials for special occasions or customers, there are several options to generate indulgent revenue.
Your CBD-infused dishes should focus on fresh foods and produce in season. Having a trained chef who enjoys CBD-infused products is also a great asset. There are currently only a handful of restaurants in the United States that offer this type of dining, so there should be a lot of CBD investment opportunities available
#7 – Create CBD-Infused Beverages
CBD-infused beverages appear to be on the rise in the next years. According to research issued by Prohibition Partners, CBD beverages may pose a challenge to the long-dominant alcoholic beverage sector. According to some analysts, the new market can reach 4 billion USD by 2024.
Inspire your target market to awaken with a CBD-infused coffee in the morning or lure them in at the end of a long day with an infused mojito. CBD-infused beverages are also an enticing alternative for post-workout recovery due to CBD's alleged anti-inflammatory benefits.
Some CBD business opportunities for beverages include:
CBD-infused coffee may appear perplexing and difficult, but it is much easier than you think. Cannabidiol may be added to a cold brew, an espresso, or blended with milk to make a CBD latte.
To manufacture CBD-infused beers, you must first have beers that have been made and infused with CBD or THC. They vary from cannabis beer brewed from the marijuana plant's roots and stocks.
Tea may sound contradictory, but CBD and tea go well together. When active elements in marijuana, such as cannabidiol, are combined with medicinal herbs, a healthy treatment for your body and mind is created.
Health & Beauty CBD Industry Opportunities
According to Custom Market Insights, the analysis of Global CBD Infused Beauty Products Market size & share revenue was valued at around USD 5.45 Billion in 2021 and is predicted to reach roughly USD 8.86 Billion by 2030, at a Compound Annual Growth Rate of 5.5% between 2022 and 2030. Therefore, there are plenty of opportunities in this niche, here are some ideas to consider.
#8 – Create CBD Cosmetics
CBD cosmetics have become a new trend as the desire for natural goods grows. CBD beauty products are available in various forms, including creams, lip balms, face masks, lotions, etc.
CBD is thought to have anti-inflammatory and analgesic qualities, making it ideal for alleviating pain, discomfort, redness, dryness, and skin disorders such as eczema and psoriasis. You may collaborate with a business that displays impulse-buy items at the checkout desk, such as CBD cosmetics. Alternatively, hand out samples on the street and offer each buyer a business card so they may promote your brand and follow your social media.
Target clients in this industry are individuals who are aware of the benefits of CBD, particularly when it comes to skin and beauty goods. If you decide to give it a shot, prepare to manage things like product development, packaging, marketing, and locating merchants.
#9 – Sell CBD Supplements and Medications
Some CBD supporters have investigated CBD's medicinal effects, which they claim include pain-relieving characteristics. However, the FDA does not oversee the safety and quality of CBD products sold as supplements. Uncertainty also exists regarding dose and the possibility of medication interactions.
To get your CBD business opportunity going, there are a few tips to consider:
Conduct research: CBD supplements affect consumer health because they are edible items. First and foremost, you should review the federal laws and current state rules that pertain to your firm. However, the FDA does not guarantee the safety of CBD products offered as tablets.
Register: You cannot lawfully sell anything unless your business has the proper licenses and paperwork.
Select a reliable supplier: To start a profitable CBD company, you must find a trusted CBD wholesale distribution business. You must also confirm that the purchased supplements fit the legal requirements in your region and sales locations. A reliable supplier will impose stringent testing to supply high-quality items.
Make an online store: The bad news is that CBD products are not permitted on prominent e-commerce sites. As a result, creating your own site is the ideal solution.
#10 – Open a CBD Spa
This CBD oil business opportunity may be quite rewarding for individuals interested in beauty and wellness, even though operating a CBD spa could be challenging.
Whatever the conditions, the allure of a CBD spa will continue to entice clients. A CBD massage, for example, is said by some to:
reduce post-workout stiffness, muscular discomfort, and exhaustion;
alleviate joint inflammation and arthritic pain;
ease back, shoulder, and neck pain;
and lessen inflammation induced by strain or injury when delivered in a luxury atmosphere.
You could even target athletes with some of your CBD spa items.
Cannabidiol is a highly adaptable component that may be used in many spa goods. Items like lotions, cleansers, massage oils, body butter, or masks allow you to add the benefits of CBD oil products in a relaxing way.
CBD-infused massage oils may supplement the numerous advantages of massage treatment by promoting a healthy inflammatory response and conditioning and nourishing the skin.
#11 – Make CBD Lotions and Soaps
Some individuals believe that the receptors in the skin are sensitive to the effects of CBD, which may be incorporated into topically applied solutions such as CBD bath lotions and soaps. These solutions can be used to treat a variety of conditions. The best thing about them is that they can be tailored to incorporate a particular quantity of CBD in each product, such as 20 milligrams in each bar. Infusing your goods with CBD high in terpenes and combining them with additional substances that improve the skin's appearance is guaranteed to result in satisfied customers.
You can create CBD bottles and containers to sell your brand more efficiently as another CBD oil business opportunity.
#12 – Make CBD Tinctures, Topicals, and CBD-Infused Sleep Products
Because CBD is a cannabinoid that has been shown to have potential anti-inflammatory benefits, it should not surprise that topical and tincture forms of CBD are rapidly taking the place of traditional beauty products and treatments. You could even advertise these goods to a wider audience if you wanted to because tinctures have functions that may expand beyond the convenience they offer when applied topically.
Other CBD companies have researched and developed topical treatments for use in their own collections of health and wellness items, hand sanitizers, and personal care items, including facial, skin, and hair care products.
Also, there is evidence that products containing CBD for sleep are effective. Some purchasers said in their reviews that using a CBD pillow helped them get better sleep, reduced their anxiety levels, and gave them more energy for the following day. On the other hand, the effects only remain for a maximum of six months, which is a disadvantage.
CBD-infused blankets, pillows, and sheets are the primary goods in this category. The CBD microcapsules will undergo an infusion procedure to enter into the pillows and blankets. These small capsules will rupture as a result of the friction and heat generated by the body, gradually releasing cannabidiol.
Conclusion
Despite the fact that the CBD industry is still in its infancy, it has experienced growth that can only be described as astonishing, and it shows no signs of slowing down in the near future.
As you can see from the list of CBD business opportunities, the CBD sector encompasses a far wider scope than only the production and sale of goods. Several options related to CBD may be a fun, creative, and fulfilling way to make money. This is especially true if you have a real interest in the advantages that CBD has to offer for people's lives.
Even if the CBD business industry is already rather competitive, this does not mean you cannot succeed in the field. To make use of the opportunities in the CBD business and get a competitive edge over your competitors, you need to differentiate yourself from their offerings, become familiar with the relevant legal requirements, and, most importantly, explain to your consumers why you are the superior option.
There are plenty of CBD business opportunities to get you into this market. Pick one of the ideas above and develop it into a profitable venue!
Ready to Get More Traffic?
We've helped dozens of clients achieve remarkable results by increasing organic traffic and revenue for their online businesses. Let us put our expertise to work for you and help you reach new heights of success.
Get Started